Hue Jackson tanked what was left of his reptuation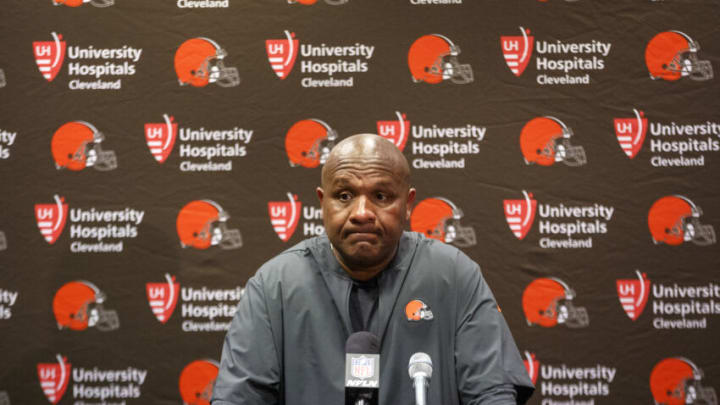 TAMPA, FL - OCTOBER 21: Head Coach Hue Jackson of the Cleveland Browns addresses the media during the press conference after the game against the Tampa Bay Buccaneers at Raymond James Stadium on October 21, 2018 in Tampa, Florida. The Buccaneers defeated the Browns 26-23 in overtime. (Photo by Don Juan Moore/Getty Images) /
Hue Jackson has destroyed what was left of his reputation.
The Cleveland Browns were bullish on Hue Jackson once upon a time. The former Oakland Raiders head coach was a very vaunted hire, and many at that four-letter network thought he would right the ship. Then he tanked several seasons all through his own inability to get the most out of the players on his staff and even ruined the development of a second-round quarterback many thought was a first-round talent in Deshone Kizer.
Everyone likes to mention his 0-16 for 2017 or 1-31 record across 2016 and 2017, but his 3-36-1 record across his entire Browns tenure is even worse. The man was an abject failure. There's no disputing this. Yet, since his firing, Jackson has blamed everyone from his assistant coaches, to the GM and owners, to the players themselves, and even the media. He's done a great job dodging any real responsibility.
But Jackson stepped in it one too many times. After former Miami Dolphins head coach Brian Flores claimed the Dolphins offered him money to tank, Jackson jumped on board that hype train. Flores may have a case, he's highly respected and is a heck of a coach. Jackson isn't respected, nor is he very good at his job.
The two cases never seemed remotely similar. Then an independent agency was hired to determine the facts of the matter. Surprisingly, Jackson walked back his claims, and the independent board determined that Jimmy Haslam, while a human ham sandwich hold the ham, did not in fact pay Jackson to lose.
Hue Jackson's reputation is forever tarnished now.
The Cleveland Browns have their own host of issues to work through, and all the deniers and conspiracy theorists can't deny that. They'll try, oh, believe me, they'll try, but the Browns are in their own image debacle at their own doing.
Yet, it's still not as bad as Jackson's image and reputation following all this. The claims were unsubstantiated, and Jackson didn't even bother sitting down to talk about the matter. Now, you can spin this with your own conspiracy theories, like how he was paid not to talk, or maybe he was promised a future job in the league, etc, but frankly, with Jackson's reputation, it makes more sense that he just opted to let it go.
That he knew he was screwed and couldn't spin the narrative to make himself look better.
Jackson's reputation is forever the man who cried wolf, and that's a sad way to be remembered. Not only as a man who couldn't be trusted but as the worst Browns head coach in history too. In a history that included Pat Shurmur to boot.
Disappointment. A ham sandwich with no ham is a disappointment.