NBA's Playoffs Refs Are Missing Calls And Not Making Others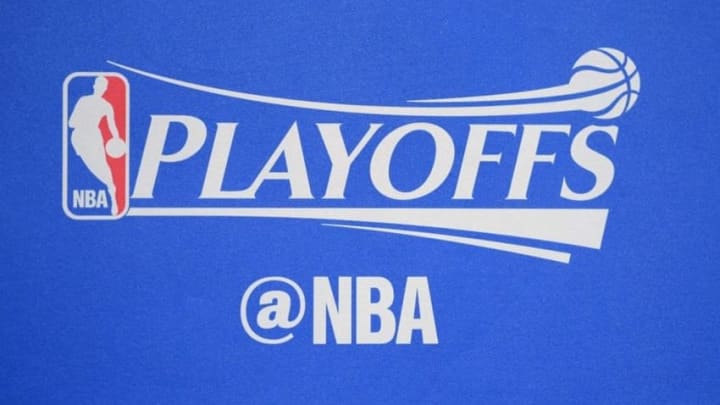 Apr 20, 2016; Los Angeles, CA, USA; General view of NBA playoffs logo during game two of the first round of the NBA playoffs the Portland Trail Blazers and the Los Angeles Clippers at the Staples center. Mandatory Credit: Kirby Lee-USA TODAY Sports /
The Cleveland Cavaliers are off to the NBA Finals, but will they see improved officiating when the games begin?
It is the playoffs and there certainly is an extreme pressure in every game to succeed. Supposedly the playoffs referees are to be the best the National Basketball Association (NBA) has to offer.
Unfortunately, that is not the case this year! These refs are blind in one eye and cannot see out of the other! They have missed things as simple as traveling to fouls of more intense variety.
In the NBA's Eastern Conference Finals between the Toronto Raptors and Cleveland Cavaliers, Toronto center Jonas Valanciunas grabbed his opponents and leaned on them to get most of his rebounds. Elbows were thrown by both sides while flagrant fouls were just called as regular fouls.
I am a Cleveland Cavaliers fan but both sides were getting an equal amount of bad calls. I have seen better high school referees with less pressure on them.
More from Cleveland Cavaliers
There were so many play stoppages to review the slow motion replays, that it made me question whether the referees needed more teaching for their occupation. Is it time to replace them with robots?
No, we definitely do not need to dehumanize the game like we have in many other occupations. Too many computers and machines are taking over already elsewhere!
What the NBA needs to consider changing is the number of refs on the court.  They may need to put four referees on the floor.
More from Factory of Sadness
Too many excuses about being blocked from seeing the play have been mentioned. Also, all the stoppages for the replay are taking away from the flow of the game.
Something needs to be done and it is up to the humans in charge of the NBA to come up with an answer! Lord knows they make enough money off of this game and the players to get it right.
Now that the Cavs are in the NBA Finals, will the refs be better or will they still miss calls like when Golden State power forward Draymond Green stood over an opponent and trashed him? What about the phantom calls on both sides of the court when no foul was committed?
Will the stoppages of play for a review continue on a constant chronic basis? The second half of game six in the ECF went a little smoother, but will it continue?
The NBA referees do not seem to be favoring anybody, but they are so inconsistent and at times letting players get away with too much. Pushing off and/or holding is also occurring quite often.
Next: Cavs Have Unfinished Business
Let's hope they clean up their act in the finals. Time will tell.