Cleveland Browns: How Long Will Hue Jackson Last As HC?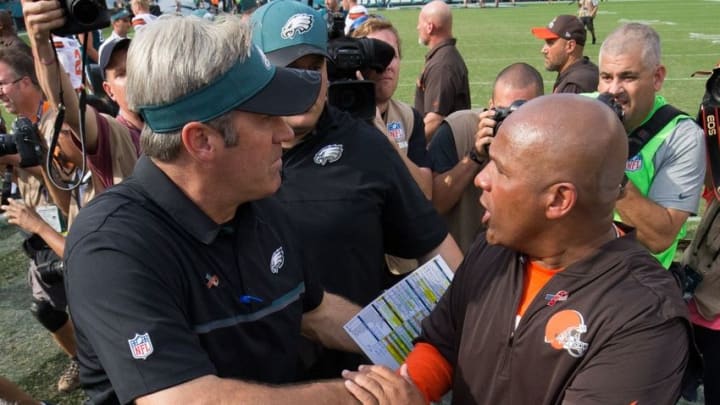 Sep 11, 2016; Philadelphia, PA, USA; Philadelphia Eagles head coach Doug Pederson (L) greets Cleveland Browns head coach Hue Jackson (R) on the field after the game at Lincoln Financial Field. The Philadelphia Eagles won 29-10. Mandatory Credit: Bill Streicher-USA TODAY Sports /
Aug 18, 2016; Cleveland, OH, USA; Cleveland Browns head coach Hue Jackson at FirstEnergy Stadium, the Atlanta Falcons defeated the Cleveland Browns 24-13. Mandatory Credit: Ken Blaze-USA TODAY Sports /
The hiring of Hue Jackson as the head coach needs to be the right one for the Cleveland Browns.
The list of recent head coaches for the Cleveland Browns is a long one. Hue Jackson has coached just one game and although it was a disappointment, he could be the answer in the big picture.
Cleveland is already paying multiple coaches and players who are not part of the organization anymore, which is just one more reason Jackson needs to succeed. Jackson could have stayed with the Cincinnati Bengals or possibly left for the New York Giants this past offseason.
Instead, he took the head coaching job with the Browns. Jackson believes in Cleveland and wants to win in NE Ohio. Unfortunately, winning is not going to occur and it will take some time. The plan is to have a long-term approach when building the Browns' roster.
That is all great and all, but will it actually happen? It should, especially since that is their plan to begin with, but we have seen Cleveland change course before.
If progress becomes evident, wins will follow. Should that happen, it would be assumed that Jackson is then a good bet to stay in Cleveland for some time. However, if Jackson does not go away from the previous regimes' lack of success, then he will not be Cleveland's coach for long.
How long should one expect Jackson's tenure to be? Members of the FoS team gave their thoughts.
Long Season Is Ahead
Jay Frierson
Hue Jackson will get three years at the most. I believe in Jackson and that he will turn the team around, but this was a terrible debut and below average coaching by him last Sunday.
I understand he can't go out there and tackle or catch a ball, but he can motivate the team to go out there and play for something, but he failed to do that.
Now with Robert Griffin III out for most of the season, who knows how he's going to turn this around. It's going to be a long, painful season and I am not looking forward to it at all.
Next: Jackson Is Going To Be Here For A Very Long Time