Cleveland Browns: How Long Will Hue Jackson Last As HC?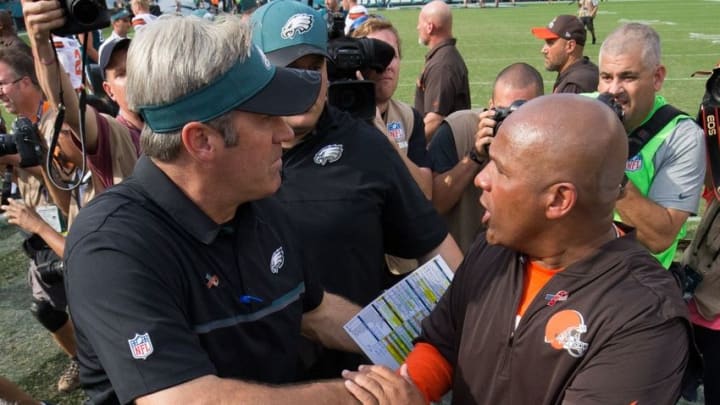 Sep 11, 2016; Philadelphia, PA, USA; Philadelphia Eagles head coach Doug Pederson (L) greets Cleveland Browns head coach Hue Jackson (R) on the field after the game at Lincoln Financial Field. The Philadelphia Eagles won 29-10. Mandatory Credit: Bill Streicher-USA TODAY Sports /
Aug 12, 2016; Green Bay, WI, USA; Cleveland Browns head coach Hue Jackson fires up the team before the game against the Green Bay Packers at Lambeau Field. Mandatory Credit: Benny Sieu-USA TODAY Sports /
History Is Not On Jackson's Side But He Is Just The Coach To Rewrite It
Ryan Rosko
Predecessors of Hue Jackson left the Cleveland Browns organization almost as soon as they walked in the door. Prior to the Cleveland job, Jackson's lone opportunity as a NFL head coach was with the Oakland Raiders. They lacked talent, but Jackson was successfully building that roster before being let go.
Jackson is in a similar situation here with the Browns. In their new approach to building a team, if the Browns relieve Jackson before his contract is up, or even after a season or two will be a major mistake.
Here's the way I see it. Year after year the Browns lose. Not only do they lose, but they end up having one of the worse records in the NFL with no legitimate proof progress is being made.
Prior regimes may have believed and said they have a plan, but looking back any "plan" obviously was not thought out completely and expressed clearly enough. Jackson's regime has a plan and they have expressed many times how the Browns are preparing themselves to build a winner.
Why not let Jackson's regime run its course? Since we all know Cleveland is going to lose a lot, why not let Jackson do it his way? That means the job must  be done in his needed and appropriate time frame. It is going to take some time for Jackson and company to succeed.
Next: Three Reasons Cleveland Will Beat Baltimore
At the end of the day, Cleveland finally lets a coach see his contract through. Jackson will get to coach the Browns for five seasons. Anything more is just icing on the cake.