Cleveland Indians Playoffs: 5 Bold Predictions For The ALCS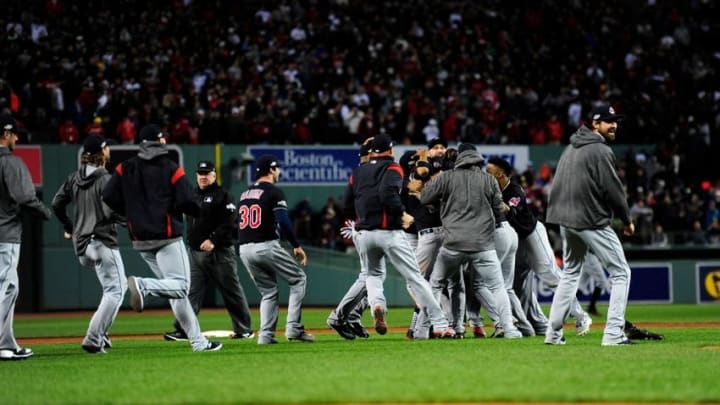 Oct 10, 2016; Boston, MA, USA; Cleveland Indians teammates celebrate after defeating the Boston Red Sox 4-3 in game three of the 2016 ALDS playoff baseball series at Fenway Park. Mandatory Credit: Bob DeChiara-USA TODAY Sports /
"Oct /
Toronto Will Hit No More Than One Home Run
That's right, the long ball is not going to be something Toronto will rely on. The reason being is that the Indians' starting pitching will continue to be dominant and will shut down the 'Jays.
Simultaneously, Cleveland's bullpen will continue to take the next step in production as they follow star left-hander Andrew Miller's lead. Had Toronto not hit as many home runs as they did in the ALDS, or the way they hit in general, Cleveland could instead be preparing for a different Blue Jays team.
Or, at the very least, had the Texas Rangers had more success, Cleveland's opponent would have to be determined at this point in time. No more than one homer is going to be tough to actually turn into reality.
Yet, if any pitching staff can do it, it is Cleveland's. The Indians' pitching is not the greatest with giving up home runs. In the postseason, they are in the middle of the pack tied for fifth with three homers given up.
At the same time, their regular season stats are not anything to be excited about either: 186 home runs were given up, which was the 11th most in all of MLB. However, that goes back to a lot of pitching inconsistencies, especially in the bullpen.
Still, choosing between pitching and hitting, the pitchers will win out. Toronto leads the MLB postseason teams with 10 home runs and was fourth in MLB in the regular season with 253.
It is a tough goal to follow through with, I am aware, but it can happen. Offenses have collapsed before after all. Confidence is much higher with the starting pitching, as the Tribe's bullpen will be key to accomplishing this feat.