2016 World Series: 5 Reasons The Cleveland Indians Will Beat The Chicago Cubs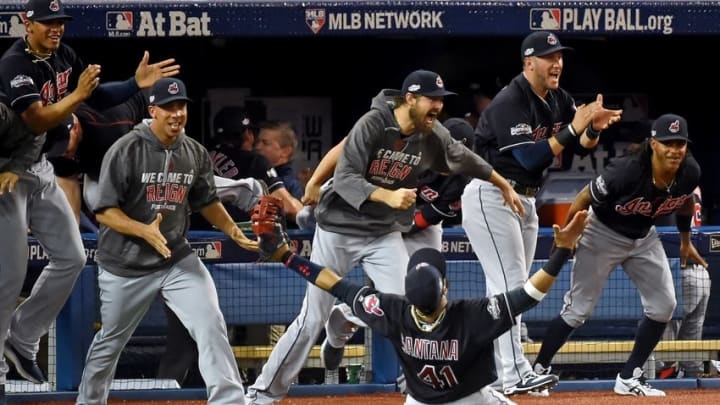 Oct 19, 2016; Toronto, Ontario, CAN; Cleveland Indians first baseman Carlos Santana (41) celebrates after making the final catch to beat the Toronto Blue Jays in game five of the 2016 ALCS playoff baseball series at Rogers Centre. Mandatory Credit: Dan Hamilton-USA TODAY Sports /
Oct 19, 2016; Toronto, Ontario, CAN; Cleveland Indians first baseman Carlos Santana (41) celebrates after making the final catch to beat the Toronto Blue Jays in game five of the 2016 ALCS playoff baseball series at Rogers Centre. Mandatory Credit: Dan Hamilton-USA TODAY Sports /
The 2016 World Series promises to end one championship drought. The Cleveland Indians will win their first title since 1948. Here's why.
The 2016 World Series promises to be a Fall Classic baseball fans will never forget. The matchup puts the Chicago Cubs and The "Billygoat Curse" up against the Cleveland Indians and "The Curse of Rocky Colavito."
The Cubs haven't hoisted the World Series trophy since 1908, while the Indians haven't celebrated since beating the Boston Braves in 1948.
Here's five reasons why the Tribe's drought will end.
Cleveland Remains The Underdog
If the Dodgers were representing the NL, it's probable that a lot of national pundits would pick the Indians. The Tribe's won seven of their eight postseason contests and possess one of the postseason's biggest stars in reliever Andrew Miller.
But with the Cubs in the World Series, Chicago promises to be the sentimental favorite to win its first world championship since 1908. All the media attention promises to center around the Cubs, the "Billygoat" curse, the genius of Joe Maddon and young superstar Kris Bryant.
This is a good thing for players in the Indians clubhouse.
Entering the 2016 campaign, the Indians couldn't be more under the radar. Diehards knew Fransisco Lindor could be a great shortstop. Some maybe even knew that Jason Kipnis was a 2015 All-Star. But for the most part, fans outside of Cleveland would be hard pressed to name three guys in the Terry Francona's lineup.
More from Factory of Sadness
The Tribe surprised us all by winning 19 in a row en route to winning its first Central Division title since 2007.
But even then, the Indians weren't getting respect.
Ever since Cleveland.com beat writer Paul Hoynes proclaimed injuries had ended the Indians season weeks before the postseason began, the Tribe's played with an underdog's chip on its shoulder.
This team's embraced this identity. It's them against the world, and seem content to surprise all comers, even in this advanced stage of the postseason.