Cleveland Browns: Could Antonio Brown's Contract Really Impact Terrelle Pryor's?
Re-signing wide receiver Terrelle Pryor would be a smart move for the Cleveland Browns, but could a new deal by a star wide receiver change what he could be offered?
For the right price, Terrelle Pryor's new contract with the Cleveland Browns would be worthwhile. That is of course the franchise does not go overboard in what they could offer him.
Pryor did take big steps forward last season in his first full season as a wide receiver. However, if you looked at the Browns' roster, there was not many other options Cleveland could get production from.
That is saying something for both Pryor and the Browns' talent offensively. Had Pryor not succeeded, Cleveland easily would have gone winless.
As the offseason progresses, a new deal ideally would have been agreed upon. Unfortunately, that is not yet the case, and that is a big surprise. Outside of Pryor, there are too many questions still left to be answered.
According to ESPN's Adam Schefter, the Pittsburgh Steelers signed wide receiver Antonio Brown to a four-year, $68 million extension.
Antonio Brown deal: 4-year extension worth $68 million – 17M per year over 4 years, and $18.5M over 3 years. Tied to Steelers through 2021.

— Adam Schefter (@AdamSchefter) February 27, 2017
So what does this mean for Pryor? Is he somehow now worth a contract that is best suited for one of the best wide receivers? Of course not, don't be silly. Brown arguably is the best player at his position and has yearly provided plenty of production. Meanwhile, Pryor is still getting comfortable.
Sure, Pryor exceeded expectations last season, but again that was just one year. If Cleveland cannot assure themselves of a long-term deal with the former quarterback turned wide receiver, a franchise or transition tag could come into play. In both cases, Pryor would receive an offer that is worth more than what his resume says he is.
Pryor should continue to improve upon his skills. He has a high ceiling with plenty of potential. Brown's deal for the most part does nothing now for Pryor but who knows how or if at all that will change in the coming years.
That said, as negotiations for a new contract continues with Cleveland more leverage could potentially be shifted towards Pryor's camp. After all, Cleveland has yet to accumulate more talent at the wide receiver position and it would be wrong to assume that some of their rookies to take over a considerable role right now in 2017.
Without Pryor, then what will the Browns do? Hope for the best?
Pryor wants to be a Brown and fans want him to stay in NE Ohio. Eventually a deal should be agreed upon. Besides, Cleveland needs to do what it takes anyways to retain their own quality talent in order to keep progressing.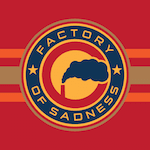 Want your voice heard? Join the Factory Of Sadness team!
Write for us!
Whenever that is, keep in mind what Pryor did 2016, who else Cleveland has, and that Pryor's ceiling is very high. When we find out the contract details, expect to see both his guaranteed amount and full contract salary to more than one would typically receive based off of the circumstances the Browns are in.