Cleveland Browns: Is a plan in place to determine the QB situation?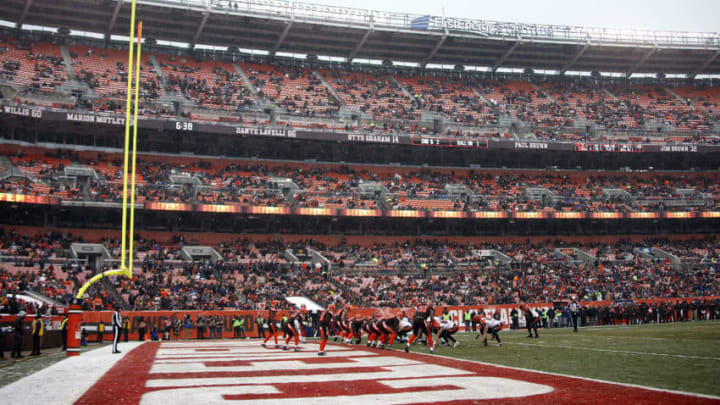 CLEVELAND, OH - DECEMBER 11: A view from the end-zone during the game between the Cleveland Browns and the Cincinnati Bengals at Cleveland Browns Stadium on December 11, 2016 in Cleveland, Ohio. (Photo by Justin K. Aller/Getty Images) /
The Cleveland Browns quarterback battle has been an interesting one to watch so far and in the near future we should know how the coaches feel about it.
Regardless of the position, NFL teams have a process in place to determine how they will figure out which player will be their guy at a given position. Not surprisingly, the quarterback position is the most critical and for Cleveland Browns fans, finding that player has been their kryptonite.
Like other areas on the roster, Cleveland does in fact have a plan for the quarterbacks. The thing though is not just anyone is going to know what head coach Hue Jackson is thinking. People will speculate as they should, but soon enough the quarterback picture will become clearer.
Jackson discussed via 92.3 The Fan's Daryl Ruiter his stance of the position and how after Friday's scrimmage a better evaluation can be made.
More from Factory of Sadness
At least we now know of a timetable Cleveland is working off of. From what I saw in-person, on video, read and heard, I am actually a bit impressed the battle has gone the way it has. Sure, veteran Brock Osweiler has been involved a lot with the twos, but he's been solid. However, his slow release does not help his case.
Meanwhile, rookie DeShone Kizer has done very well so far. Still, it is just training camp and expectations should be realistic. I continue to maintain the belief he should not play in 2017 unlike many of the previous rookie Browns quarterbacks.
However, if he continues to progress, maybe Kizer could be considered in the middle of the season. Regardless, there is a lot of work for him to take care of before we get to that point.
Second-year signal-caller Cody Kessler hasn't taken his game to another level yet. If he ever will is a topic for another day. Despite that, Kessler's play has not put him into position at this time to lose his job.
I debated the possibility recently whether or not the Browns should even have an official depth chart. Technically, they have to list a one, two, and three, but inside their locker room, why not just eventually name their starter and go from there?
Kizer and Osweiler/Kessler would be the backups and given how Cleveland is playing overall, combined with Kizer's progress would determine who would get the call should they need to replace their starter.
All three quarterbacks could have a case be made to start. The rest of training camp won't show too much that we haven't already seen.
Next: Bold predictions for the offense

Once the preseason starts, then Jackson and the est of the coaching staff will be able to figure out who has the advantage. Keep an eye on the scrimmage because it won't (likely) be hard to determine the depth chart once the contest is over. From there, it will be that player's job to lose.