Impact on the city of Cleveland if Indians win the World Series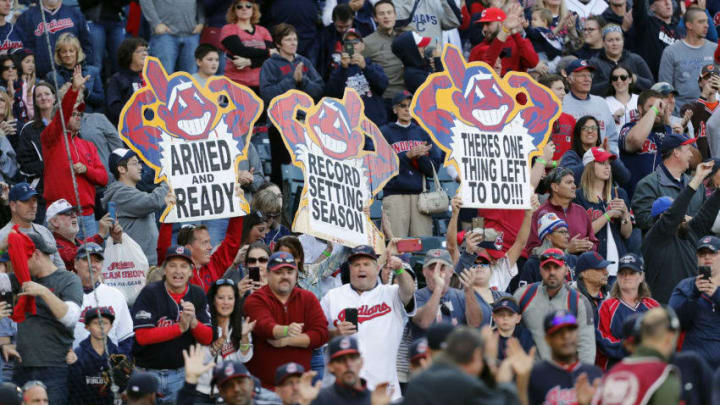 CLEVELAND, OH - OCTOBER 01: Cleveland Indians fans cheer as the team leaves the field after defeating the Chicago White Sox at Progressive Field on October 1, 2017 in Cleveland, Ohio. The Indians defeated the White Sox 3-1. (Photo by David Maxwell/Getty Images) /
Here's what winning the 2017 World Series would mean to the city of Cleveland.
What would winning the World Series mean to the city of Cleveland?
It would fulfill the dream of many Clevelanders who were joyous with a Cavs title just two summers ago, but were left wanting more after.
The Indians haven't celebrated a title since 1948 and were the doormat of the American league for the better part of three decades from the 1960s through the early 1990s.
For Indians fans, there's a sense of unfinished business that looms over a significant number of the Wahoo faithful because a title should already be on display at the corner of Carnegie and Ontario.
That 1995 team was packed with Hall of Fame worthy players, yet it fell to the Braves, who won their only World Series title during Atlanta's amazing run of divisions championships.
The 1997 team was two outs away. David Justice once told me, "I'm standing in the outfield, and I'm thinking, 'I'm about to win another World Series."
That 2007 team still knocks the wind of me everytime I think of Joel Skinner stopping Kenny Lofton at third base as the Tribe blew a 3-1 lead.
And 2017. Game 7.  I was there. I've never never experienced the highs and lows sports can truly offer unil that night. From the elation of Rajai Davis' home run off Aroldis Chapman to the "Holy crap" moment at Jason Kipnis being robbed of a hit by mere inches by the measly foul line, to the depression that set in after Michael Martinez wade the last out..
As a 13-year-old rooting for the 1995 team, to the failures of those other great clubs, I always felt there was a puzzle piece my childhood was missing growing up in the west side suburbs, being the Indians never won it all.
Baseball was life. Little League, trading cards, autographs, watching countless games on TV, asking Paul Assenmacher how he threw his curveball, recognizing Tom Hamilton was a Hall of Fame broadcaster long before his home-run calls became YouTube sensations.
I wanted to be rewarded for my fandom, and still do. A World Series was, and still is the only validation.
I think a lot of people still feel this way, and Cleveland is ready to party.
ESPN Cleveland radio host Tony Rizzo felt the wrath of some fans after stating the following, for which he caught some social media heat.
Jim Thome used to have a shirt that all the players use to wear around the clubhouse bak in the day: "It doesn't mean a thing if we don't get the ring," was the slogan.
That's not to say the ride hasn't been enjoyable. Twenty-freaking-two straight wins? Unbelievable. I'll never forget it. You'll never forget it. This is the type of stuff we'll tell our grandkids about.
But if the Indians don't win the ring, think about how those 2002 Oakland A's are remembered. A movie was made about it, however, that season comes with a big BUT.
They won 20 in a row, BUT lost in the first round of the playoffs.
It's a salty taste that I don't want in my mouth.
There's just something different about postseason baseball in Cleveland.
As the Tribe begins the postseason, its fans are a powder keg of excitement ready to blow.
The sport of baseball itself is a reason. There's just something about baseball's history, a Dad passing his love of the game to his son, who grew up and went on to pass it on to his daughter.
Additionally, the team concept shouldn't be overlooked.  You don't need a franchise quarterback or a LeBron James superstar to contend in baseball. You need great players, and a lot of them. Corey Kluber alone isn't pitching this team to a division title.
Plus, baseball's your friend even if you don't know it. Think about. You go to your mom's house, maybe the game's on the radio as she cleans the kitchen. You visit grandpa, who's sleeping in his easy chair with the game on TV.
The length of an MLB season also gives the public a chance to get to know its players. This city is in love with infectious attitude of Francisco LIndor, the cocky GOAT, Jose Ramirez and  the stoic Klubot, Corey Kluber.
Next: Don't wait, give JRAM the MVP now
Enjoying the ride? Check. History made? Check. Second most wins in franchise history? Check. There's only one thing left to do, Cleveland.
Put a ring on it.