Ohio State football: 5 reasons the Buckeyes will beat Penn State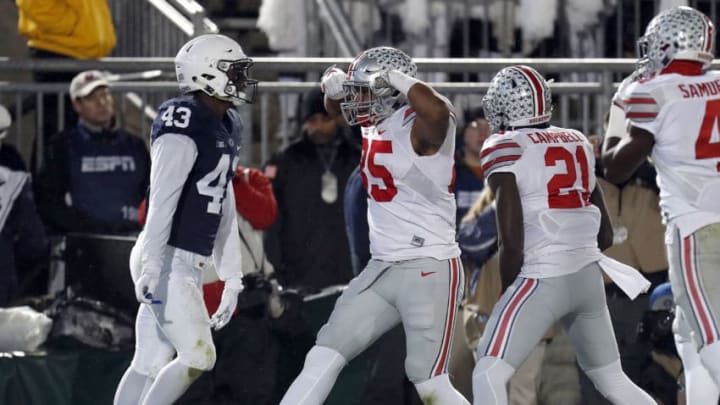 STATE COLLEGE, PA - OCTOBER 22: Marcus Baugh /
5. The Buckeyes' speed and athleticism on defense will contain Saquon Barkley.
One of the most prominent story lines entering this game is the sheer dominance that has been put on display by Nittany Lions running back Saquon Barkley. He is currently leading the Big Ten in total touchdowns as a running back while leading in receiving yards by a running back as well.
Not only is Barkley pulling away from defenders on the field, he is running away with the lead in the Heisman race as well. However, this may also be because of the limited competition surrounding him in the Heisman race as a whole. Barkley will be out to solidify his case as the clear cut Heisman front runner against the Bucks.
So far, opponents haven't had much luck containing Barkley. He's had under 150 total yards in just two games all season. Both of those games were Nittany Lions victories of three touchdowns or more.
Jerome Baker and the Buckeyes' linebacker corps will be the best group that Penn State has played thus far. The fact of the matter is that the Nittany Lions simply haven't played any teams as stacked with talent on defense as the Buckeyes.
The naysayers will quickly point to last weekend where the Nittany Lions pummeled the defense of TTUN but that will end up being more of a mirage than anything. TTUN has been decent statistically so far this season but they are easily a step down from what they were a year ago. This season's TTUN defense is sorely missing their seniors who made up just about every position. TTUN had the most players drafted to the NFL than any other school last season. This includes first rounders Jabrill Peppers and Taco Charlton among others.
The Buckeyes' front seven on the other hand has remained mostly intact minus All-American middle linebacker Raekwon McMillan. Though they may not necessarily be lighting it up statistically yet, this group is full of potential and certainly plenty of NFL type talent.
The real task in this game will be blanketing Saquon Barkley as a receiver out of the backfield. This is where Barkley is particularly dangerous as the Nittany Lions love to swing it out to him in the open field where he has plenty of room to beat defenders. Jerome Baker, Dante Booker, and Chris Worley make up the linebacker corps. Baker and Booker are among the leading tacklers on this defense.
Outside linebacker Jerome Baker will likely be tasked with keeping Barkley in check. Baker has the speed and ability to keep up with him and should be able to at least prevent Barkley from breaking off the big runs.
The Bucks also have some quality players on the ends with Nick Bosa, Sam Hubbard, Tyquan Lewis, and Jalyn Holmes to set the edge. This will force Barkley to run inside the numbers which will greatly limit his production by making him run through the defense and not around it.
Saquon Barkley will be public enemy number one for the Bucks this week. He only carried the ball 12 times and picked up 99 yards against the Bucks last season so it should be expected that his touches will double this time around. The Bucks have all of the tools necessary to keep Barkley contained so as long as nobody falls down on defense then all will be well. Expect the Bucks to sell out on stopping Barkley to ensure they put themselves in the best position to succeed.