Ohio State football: 5 reasons the Buckeyes will beat Penn State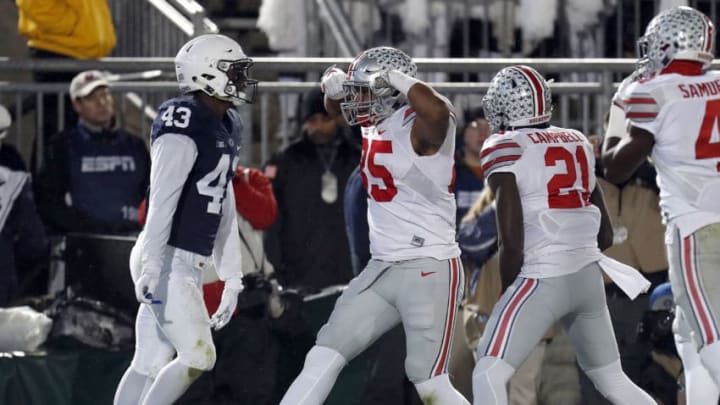 STATE COLLEGE, PA - OCTOBER 22: Marcus Baugh /
2. The Nittany Lions' offense doesn't scare the Buckeyes.
All that has been going around in anticipation for this game has been Saquon Barkley this and Saquon Barkley that. Yes, they have the best all-purpose running back in the nation but what else do they have? Trace McSorley been good this season but there isn't anything too special about his game. Their receivers are alright but none will be a huge challenge.
The Nittany Lions lost their top receiver from last season in Chris Godwin. He led the team with 982 yards and 11 touchdowns. They still have preseason All-American tight end Mike Gesicki and second leading receiver DaeSean Hamilton to carry some of the load.
Trace McSorley has thrown five interceptions this season and has been sacked the second most times in the Big Ten. He will have to play much better than good in this game to beat the Bucks. The last two quarterbacks to effectively defeat the Bucks were Heisman finalists Baker Mayfield and national champion Deshaun Watson.
The Buckeyes' passing defense has stepped up since getting shredded by Baker Mayfield and the pass-happy Sooners. The defense has not let any team score more than 14 points on offense since then. The secondary has gained some valuable experience that was missing earlier in the season.
Tailback Saquon Barkley is the team's second leading receiver and he isn't that far from leading the team. It isn't always the case but usually when a team's second leading receiver is the primary running back then that means the team is low on receiving options. With top receiver Chris Godwin gone, this may very well be the case.
This season, teams may have to utilize a different game plan when facing the Bucks. The way their offense is rolling, teams are going to have to keep up with and outscore the Bucks in order to get the win. The Nittany Lions' 23rd ranked passing offense is good but not good enough to cut it with the way the Bucks are rolling over teams right now. Expect the Bucks to prevail as the defense hones in on shutting down the Nittany Lions' limited weaponry on offense.