Cleveland Browns: Minnesota Vikings Q & A with Sporting Sota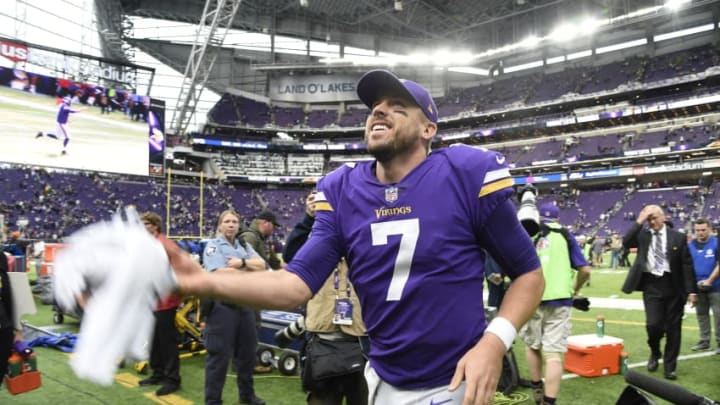 MINNEAPOLIS, MN - OCTOBER 15: Case Keenum /
The Cleveland Browns are in London, England for Week 8 as they host the Minnesota Vikings. Leading up to the game, we discussed the two teams with Sporting Sota.
It is an early kickoff for the Cleveland Browns this week as they play the Minnesota Vikings at 9:30 AM EST. Could this be the week a win happens? Maybe, but the jokes would then go to "oh, Cleveland is undefeated overseas".
As we wait to see how the game plays out, Sporting Sota site expert Collin Kottke provided insight into the 2017 Vikings.
FoS: Cleveland's run defense has been better than expected this year. In fact, it's arguably stellar. That said, how will Minnesota implement Jerick McKinnon and Latavius Murray on offense to maintain the results they expect?
More from Factory of Sadness
Sporting Sota: The Vikings will go with the hot hand between the two. Minnesota was handed a solid blow when stud rookie Dalvin Cook was injured and ruled out for the rest of the season, but his backups have each done well in his place.
Expect the Vikings to hand the ball to both backs early on in the game and then start to ride whoever looks better early in London. Murray has started to finally look good this season, so watch out for him.
FoS: Have there been any discussions as to what the reaction would be from Minnesota fans and media if the Browns defeat the Vikings for their first win of the season? If so, what is it? Or, is there complete confidence SKOL will win?
SS: I would say there is complete confidence in a Vikings win on Sunday around the fanbase and in the talk-radio world locally. If the Vikings did lose, it wouldn't be a pretty sight around Vikings country. With the bye week after the game, observers would be over analyzing the game against the Browns.
The Vikings are bound to lose some games with Case Keenum at the helm and the Browns are bound to win eventually, so, personally, I'm a little scared for the Vikings. Weird things always happen in London.
FoS: Tight ends have had field days with the Browns' defense all season. So, is Kyle Rudolph going to be priority number one on offense and have a career day or will his stats be about what we have typically seen so far?
SS: Kyle Rudolph is an interesting cat. Overall, I think he has underachieved for his career, but he has shown some flashes, too.
Rudolph has only once caught more than one touchdown pass in a game and only went over 100 receiving yards in a single game a handful of times. I would not worry about Rudolph.
FoS: For those that haven't watch much of the Vikings this season, why is Adam Thielen so underrated?
SS: The main reason Adam Thielen is underrated is probably because of his teammate Stefon Diggs. Diggs, who has been out the past few weeks, is one of the best receivers in the game and he casts a shadow on Thielen, especially outside of Minnesota.
Thielen isn't far behind in the WR power rankings though. Thielen will catch just about anything thrown his way and he's going to fight for extra yards. He's loved in Minnesota because he is from Minnesota and he is super gritty.
FoS: Is there one specific aspect of the Browns' play that should be more worrisome than others for the Vikings?
SS: The run defense. Case Keenum has looked pretty good in his starting role with the Vikings, but many are waiting for the shoe to drop and for him to throw a handful of interceptions in one game.
If the Browns stop the run game and force the Vikings to throw the ball a lot, that might be a big problem for the purple.
Next: Week 8 predictions vs Minnesota
Thank you to Collin for providing insight into Cleveland's Week 8 matchup. Win or lose, there will be plenty to evaluate following their Week 8 game. Hopefully the monkey is no longer on Cleveland's back and a win happens.