XFL: Is Cleveland or Columbus a legitimate option for a team?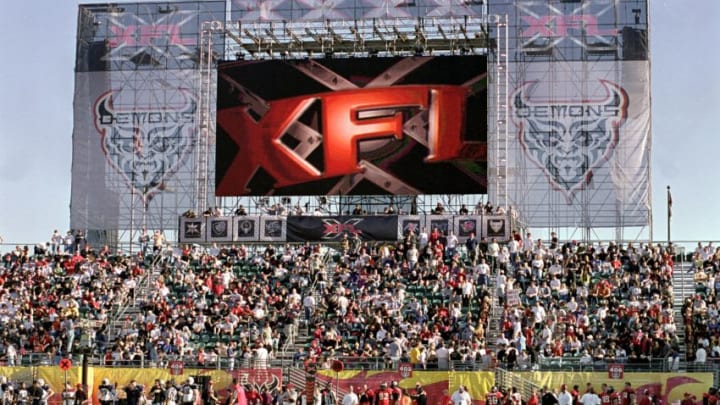 4 Feb 2001: A general view of the game between the Los Angeles Xtreme and the San Francisco Demons at the Pac Bell Stadium in San Francisco, California. The Demons defeated the Xtreme 16-15.Mandatory Credit: Tom Hauck /Allsport /
The XFL will be here in 2020. While the league will be small, maybe we will see a team in Ohio.
What was expected to be a multi-season league when it was first created, the XFL ended up lasting just one season. As of now, no city has been rejected by the XFL when it returns but the reality is that most cities don't stand a chance at being awarded a team.
So, what are the chances that we see an XFL team play in an Ohio city, specifically Cleveland or Columbus? Well, let's look at some of the specifics.
The XFL will have eight teams in 2020, the same amount they had in 2001. While some may feel there is not a true football team in either city or Ohio for that matter, keep in mind the XFL was and will again be essentially a minor league at best.
More from Factory of Sadness
The Cleveland Browns have certainly had their issues but the Ohio State Buckeyes have excelled. Fellow Ohio team, Cincinnati Bengals, are nothing to be excited about but the fact is Ohio has two NFL teams and one very successful college team in their capital.
Being that there are so few spots, the likelihood is not good for an Ohio based team. However, before I say no, let's look at the cities the XFL originated in: Birmingham, AL, Chicago, IL, East Rutherford, NJ, Orlando, FL, Las Vegas, NV, Los Angeles, CA, Memphis, TN, and San Francisco, CA. Of those, four and soon to be five of those cities have NFL teams already playing there.
Would Cleveland really fit? If the XFL placed a team in Cleveland, their best place to play would be in FirstEnergy Stadium, home of the Browns. While Cleveland to some isn't even worthy of being part of the NFL, the reality is that they are whether some people like that or not.
With a greatly improved front office, they are now on the right track to not being an embarrassment anymore. That said, when it comes to football in Cleveland, there is only one team that fits and that is the Browns.
On the other hand, Columbus could be an intriguing option for the XFL. The Columbus Crew could be relocating to San Antonio, Texas. Whether they get relocated remains to be seen.
Regardless if they do or not, Mapfre Stadium (the Crew's stadium) could be used a lot more. The stadium is mainly used for just Crew games and concerts (most notably Rock on the Range lineups).
The location is great for people in all parts of the city, Ohio State students, and those in nearby suburbs to attend. Anywhere else in Columbus wouldn't work. Otherwise, the city would still have the Destroyers, formerly of the Arena Football League.
It's wise to never say never but I'll go with the opposite mindset. Neither Cleveland or Columbus will be awarded an XFL team.
Next: 5 former Browns who should play in the XFL
I do expect one or both of them though to be considered until the end. Given how much the Buckeyes are a focus in Columbus and surrounding areas and what the Browns mean to the city of Cleveland and NE Ohio, neither city would truly work out.