Cleveland Browns: Why Hard Knocks can be a good thing for Hue Jackson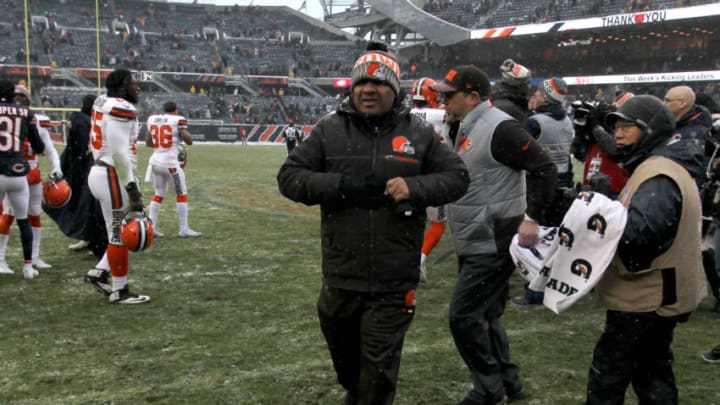 CHICAGO, IL - DECEMBER 24: Head coach Hue Jackson of the Cleveland Browns walks off of the field after the Chicago Bears defeated the Cleveland Browns 20-3 at Soldier Field on December 24, 2017 in Chicago, Illinois. (Photo by Dylan Buell/Getty Images) /
For all the bad Hue Jackson has been through and provided at times to the Cleveland Browns, the Hard Knocks announcement could be a positive for him.
This offseason has been great to say the least for the Cleveland Browns. They hired an impressive front office, added multiple veterans who can help now and in the future, and that is not all.
On Thursday, NFL Films announced that the HBO series Hard Knocks will feature the Cleveland Browns this season. Given the news and the positive momentum the Browns have been on, this is Jackson's chance to make things even more positive.
For those not inside the buildings in Berea or knows Jackson personally, this is a great opportunity to see Cleveland's head coach operate behind the scenes. After all, for most, all that is seen are the games on Sundays. However, there is more than just that.
More from Factory of Sadness
Jackson's tenure up to this point has not been anywhere close to successful. However, maybe through the upcoming HBO series clarity to his situation will be seen. 1-31 says so much.
He has not been a good head coach. Then again, given how ownership has run the team, including having Sashi Brown, a lawyer, run the football operations, had to have to taken a toll on Jackson.
Now, I am not an advocate of Jackson as he needed to step up his coaching and did not but Brown should not have been in that position of power either.
Regardless, hopefully through each episode everyone tuning in to watch will see Jackson's football knowledge expressed in a confident manner. Simultaneously, a better working environment with general manager John Dorsey would be great to see. Not to mention evidence his coaching has picked up.
In addition, no excuses being mentioned and any awkwardness by Jackson is gone. The awkwardness I am referring to varies from head scratching decisions on the field (in this case practice field) to how he interacts with players. It is up to him to change the perception of his tenure.
Jackson needs to also maintain the plan in place that Todd Haley is calling the offense.
The past is the past in Cleveland. One of the main people who can change 2018 and the years to come is Jackson.
Everyone in the past deserved blame for those teams but this is a new era of Browns football. There is no reason through initially interacting with people and improving the culture, then leading to coaching, that Jackson cannot turn the Browns record around.
Next: 3 areas where work still needs done
Long-term is a different story though. For 2018, progress is more than expected and a decent idea of how they will do this fall will be seen during Hard Knocks.