5 reasons the Cleveland Browns will upset the New Orleans Saints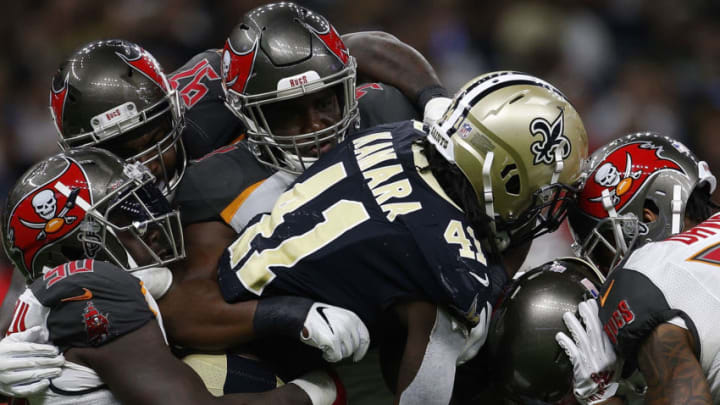 NEW ORLEANS, LA - SEPTEMBER 09: Alvin Kamara #41 of the New Orleans Saints is tackled by the Tampa Bay Buccaneers defense during the second half at the Mercedes-Benz Superdome on September 9, 2018 in New Orleans, Louisiana. (Photo by Jonathan Bachman/Getty Images) /
CLEVELAND, OH – SEPTEMBER 09: Tyrod Taylor #5 of the Cleveland Browns throws a pass during the third quarter against the Pittsburgh Steelers at FirstEnergy Stadium on September 9, 2018 in Cleveland, Ohio. (Photo by Joe Robbins/Getty Images) /
Tyrod's not THAT bad
Look for Tyrod Taylor to get some redemption against a Saint's defense that let Ryan Fitzpatrick and the Bucs' offensive hang up 48 points on it during Week 1. Fits totaled 414 yards passing and threw for four touchdown.
A lot of Fitzpatrick's success can be attributed to his offensive line. The Saints just got little pass rush, which allowed the Bucs' quarterback to make himself at home in the pocket.
With playmakers all around, Taylor should be able to distribute the ball at will and he won't have rainy conditions to deal with playing in a dome.
With that said, Taylor had ample opportunity to throw against the Steelers. In fact, he had the ninth most time to throw (3.0 seconds) during the NFL's first week. Compare that with Fitzpatrick, who took just 2.5 seconds to get rid of the ball.
In Week 1, Taylor looked like the rookie quarterback who holds onto the ball to long, makes bad throws or takes off when when the pressure gets to tight.
Expect Taylor to look for Josh Gordon more, who was targeted just three times despite being on the field for 69 snaps. He's the best player on the field.
Todd Haley must correct this atrocity in practice during the week. Taylor must at least look at his best offensive option.
Taylor had the type of dud games Browns' fans saw in Week 1 when he was employed by Buffalo, but it's his DNA to bounce back with a decent game.
Look for Taylor to throw for 200-225 yards and a couple of touchdowns in this one.