5 reasons the Cleveland Browns will upset the New Orleans Saints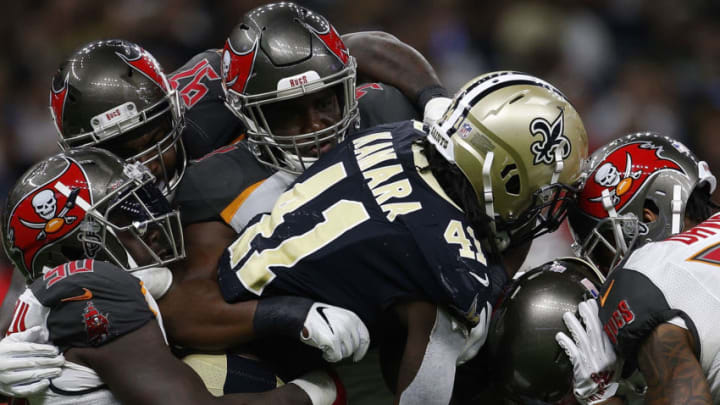 NEW ORLEANS, LA - SEPTEMBER 09: Alvin Kamara #41 of the New Orleans Saints is tackled by the Tampa Bay Buccaneers defense during the second half at the Mercedes-Benz Superdome on September 9, 2018 in New Orleans, Louisiana. (Photo by Jonathan Bachman/Getty Images) /
NEW ORLEANS, LA – SEPTEMBER 09: Alvin Kamara #41 of the New Orleans Saints is tackled by the Tampa Bay Buccaneers defense during the second half at the Mercedes-Benz Superdome on September 9, 2018 in New Orleans, Louisiana. (Photo by Jonathan Bachman/Getty Images) /
No Saints' ground game
Alvin Kamara was one of the hyped fantasy players heading into the season, and his stock only jumped higher with the news that Mark Ingram would be sitting out early on, suspended four games for a PED violation.
Kamara averaged 6.1 yards per carry last season, and had 1,901 all-purpose yards.
But in Week 1, he carried the ball just eight times for 29 yards. Yes he had two touchdowns, but this could be just what the doctor ordered for a Cleveland defense that made James Conner look like Franco  Harris.
Kamara is more of a threat as a receiver, as evidenced in Week 1 when he caught  nine passes for 112 yards. As a team, the Saints rushed the ball just 13 times for 43 yards.
Coach Sean Payton may try to rush the ball a little more just based on how Cleveland let Conner rush for 130 yards on Opening Day.
That may be worrisome for Browns' fans, but this is where missing Ingram hurts the Saints. Payton was able to plug in Kamara in the right spots last season, and he can't do that with his Bell Cow suspended.
Payton must attempt to get some sort of ground game established considering the success Cleveland had putting their hands on Roethlisberger.
He's going to have to try and throw the defense off a little, otherwise Myles Garrett will be able to tee off on Brees.