5 reasons Baker Mayfield will lead Cleveland Browns past Baltimore Ravens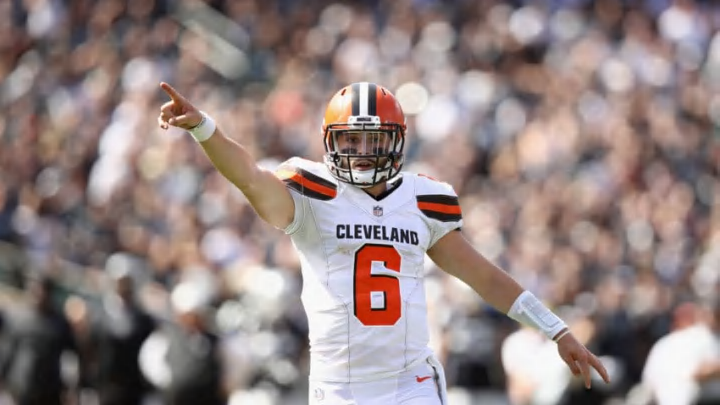 Cleveland Browns Baker Mayfield (Photo by Ezra Shaw/Getty Images) /
Cleveland Browns Baker Mayfield Baltimore Ravens (Photo by Ezra Shaw/Getty Images) /
Five reasons the Cleveland Browns can upset the Baltimore Ravens in Week 5 for their second win of the season at FirstEnergy Stadium.
The Cleveland Browns look to get back to their winning ways in Week 5 with a home game against the Baltimore Ravens.
The Browns, 1-2-1 are playing meaningful games in October for the first time since the 2014 campaign.
The Ravens are 3-1, at the top of the AFC North, but there's some debate as to who the top team in the division is at the quarter-point of the season.
The Bengals are coming off a huge win against the Falcons, and already put a beating on Baltimore during their Week 2 win.
History doesn't foreshadow a rosy outcome for the Browns. Baltimore's beat Cleveland 18 of the last 20 meetings. Quarterback Joe Flacco is 17-2 lifetime against Cleveland. The only quarterbacks who own a team more this mark? Tom Brady's dominance over Buffalo (28-3) and Ben Roethlisberger's ownership of the Browns (22-3).
But it's a new season, and while the wins haven't come yet, these aren't the doormat Browns of the past two years.
A win here gets the Browns back on track for a possible run a Wild Card berth, while a loss will crank up the heat on Hue Jackson's coaching chair.
Here's five reasons Cleveland will celebrate with Jacksons' first win  AFC North victory since becoming the Browns' head coach.