Cleveland Browns: If Las Vegas Posted Prop Bets for 2020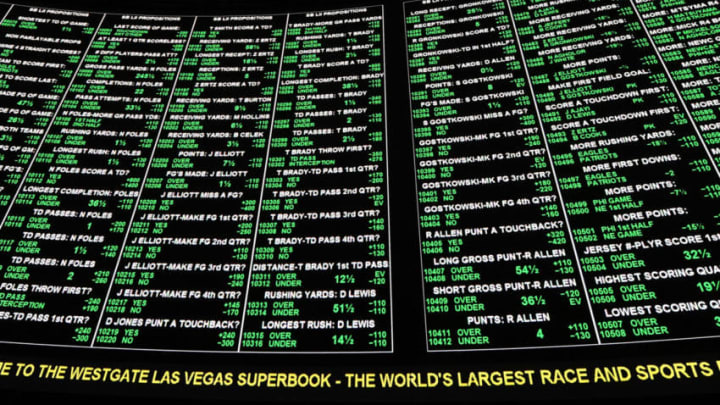 LAS VEGAS, NV - JANUARY 26: Some of the more than 400 proposition bets for Super Bowl LI between the Philadelphia Eagles and the New England Patriots are displayed at the Race & Sports SuperBook at the Westgate Las Vegas Resort & Casino on January 26, 2018 in Las Vegas, Nevada. (Photo by Ethan Miller/Getty Images) /
Super Bowl prop bets have become very popular. What if Las Vegas sportsbooks posted prop bets for the Cleveland Browns heading into the 2020 season?
In light of the skyrocketing popularity of prop bets during Super Bowl week, we decided to propose some, with odds, centered around the Cleveland Browns:
How many free agents will the Cleveland Browns sign on March 18 when the NFL league year begins?
None (500-1)
One (100-1)
Two to four (2-1)
On what date will Joe Schobert sign with another team?
March 18 (Even)
March 19 (5-2)
Never, he'll re-sign with the Browns eventually (250-1)
Fan reaction to the new uniforms will be:
"Sweet! When can we order them?!" (5-1)
"Ugh! We can get new uniforms again in five years, right?" (30-1)
When NFL schedules are released in April, how many night games will the Browns have?
One measly Thursday night game (50-1)
Two (3-1)
Three to five (10-1)
In the first round of the 2020 NFL Draft, the Cleveland Browns will…
Make a selection in their spot at #10 (15-1)
Trade up (5000-1)
Trade down (2-1)
At some point during the first round of the 2020 NFL Draft, Cleveland Browns fans will…
Disavow their Browns fandom in disgust (60-1)
Proclaim that Andrew Berry is a genius (4-1)
Wax nostalgic for the good ol' days of John Dorsey (20-1)
Will Odell Beckham Jr. participate in on-field activities during at least one OTA?
Are you nuts?! (35-1)
Yes (3-1)
How will local media describe Training Camp 2020?
"Camp Stefanski" (40-1)
"Wow, it's so much more organized than Freddie's camp!" (Even)
"I've never seen so many tight ends in all my years covering the NFL!" (5-1)
Baker Mayfield, version 3.0 will:
Return to his rookie form and shine in Kevin Stefanski's system (5-2)
Star in more national commercials during the season than have passes intercepted (2-1)
How many butts will OBJ slap during the Browns first game?
None (750-1)
Just Baker's and Jarvis' (3-1)
More than we can count (10-1)
Where will Myles Garrett be week 1?
On the field playing for the Browns (Even)
At a local arcade playing Whack-a-Mole (1000-1)
What will Cleveland Browns fans be most thankful for when the final whistle blows Week 17?
Having had NFC East teams on the schedule in 2020 (Even)
Finally having a playoff game to look forward to (5-2)
That the 2021 Draft in Cleveland is only about four months away (50-1)
In January 2021, Paul DePodesta, Andrew Berry, and Kevin Stefanski will…
Be heroes to Cleveland Browns fans everywhere (8-1)
Be updating their resumes in preparation for networking at the upcoming Senior Bowl in Mobile, Alabama (75-1)
Jimmy & Dee Haslam's post-mortem on the 2020 Browns season will be:
"See, we told you it was all about alignment!" (Even)
"We're dedicated to conducting a thorough search of non-Ivy League candidates for our new Chief Strategy Officer, General Manager, and Head Coach hires!" (100-1)
With Andrew Berry back onboard and the Browns' front office now officially aligned with the head coach, 2020 will be nothing if not fascinating in Berea and at First Energy Stadium.