Cleveland Indians: Extending safety nets is a mixed bag for fans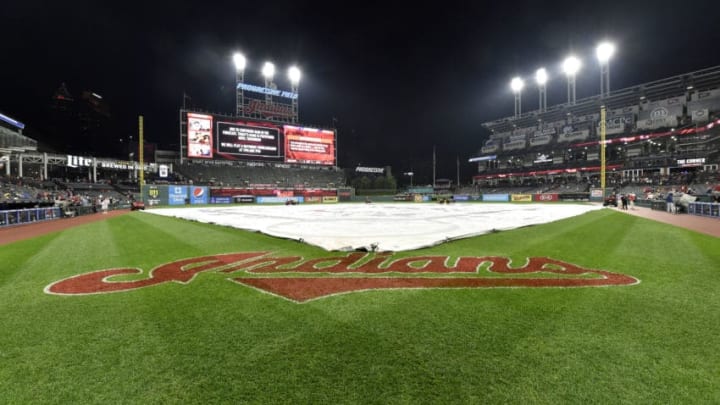 Cleveland Indians (Photo by Jason Miller/Getty Images) /
The Cleveland Indians announced they'll follow the MLB trend and extend protective safety nets on Wednesday in a move that garnered mix reactions.
The Cleveland Indians announced on Wednesday that they'll be extending safety nets down the foul lines after consulting with Major League Baseball. According to Cleveland Scene, the Indians sent out an email to ticket holders today, stating that the protective netting will extend almost all the way down the foul lines, with only four sections uncovered. Those seats are angled towards the home plate.
"In consultation with MLB and architects to assess the best design within our ballpark configuration, we have made the following netting changes to protect our fans while providing the best possible viewing experience:Extended Netting- The netting will now be extended to cover the area from section 128 in the Right Field corner to section 174 in the Left Field corner.Height Increased and Canopy Removed- We have also extended the height of the netting from 23 feet to 33 feet and have removed the existing canopy. This will enable foul balls to once again reach the fans in the lower bowl.Additionally, players and fans will still be able to take part in pregame autographs through the netting."
This has stirred up some controversy with some fans pointing out that in Japan, they don't worry about netting but instead hand out helmets and gloves to fans in specific sections and even bill them as "excite seats".
Others point out that cellphones may be the issue.
Some even are making light of the announcement.
While others acknowledge that fans don't pay attention like they once did, pointing out the need for the changes.
There are plenty of reasons to support and reject the idea of netting. Those that argue foul ball injuries were never that big of a deal before the rise of smartphones have a point. Society by and large aren't paying attention as much as they once did. Less awareness leads to more incidents. On the other hand, society has changed. For better or worse the world is drastically different than it was more than a decade ago, and folks felt that the changes needed to be made.
As of right now those that disagree with the decision will simply have to bear the news.