Cleveland Browns: Will management's words echo hollow?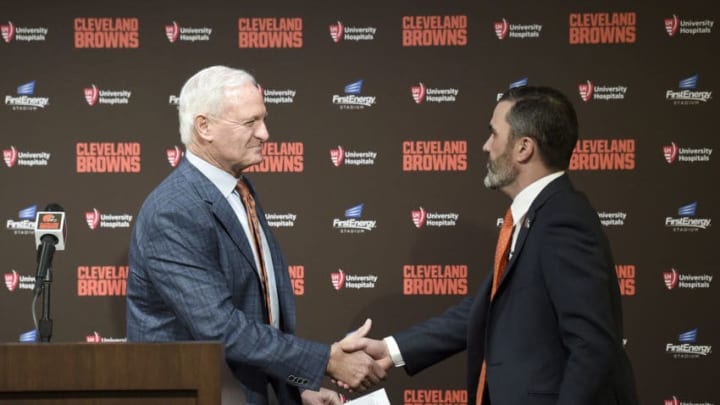 CLEVELAND, OHIO - JANUARY 14: Team owner Jimmy Haslam shakes hands with Kevin Stefanski after introducing Stefanski as the Cleveland Browns new head coach on January 14, 2020 in Cleveland, Ohio. (Photo by Jason Miller/Getty Images) /
The Cleveland Browns new management has stern words for Kareem Hunt and Odell Beckham Jr. at Andrew Berry's introductory press conference.
The Cleveland Browns organization brought in all the big names for Andrew Berry's press conference on Wednesday's introduction press conference. Alongside head coach Kevin Stefanski, the duo made it clear; get in line.
Are their words hollow though? For Stefanski to say that Odell Beckham Jr. and Kareem Hunt need to toe the line in essence, how much validity does that have?
"I certainly want them on the team. Two different situations but like all of our players, there will be standards that have to be met."
Berry was just as firm, saying;
"Everybody is going to have to fit into our culture of being smart, tough and accountable;"
Are their words hollow though? By definition, yes. For now. Both Berry and Stefanski need to prove that they're going to live up to their words and not just make excuses for players' bad behaviors. Until a situation is placed in front of them, this front office is the Schrodinger's Cat of pro football offices.
They're both unreliable and reliable until they're proven to be one or the other. The front office can't be afraid to rid itself of players who continue to cause problems for the image of the franchise, the chemistry on the team and the sheer fact that it angers fans on a constant basis.
It's a good start to the new regime, after all saying the right thing is always the right start to things but they're going to need to prove they've changed, that they earn the fans trust going into the new season.
Words can only carry so much weight without action and both Stefanski and Berry are now going to need to show that their not toothless mouthpieces for a once-proud organization.