Cleveland Browns rumors: Candidate reluctance to take GM job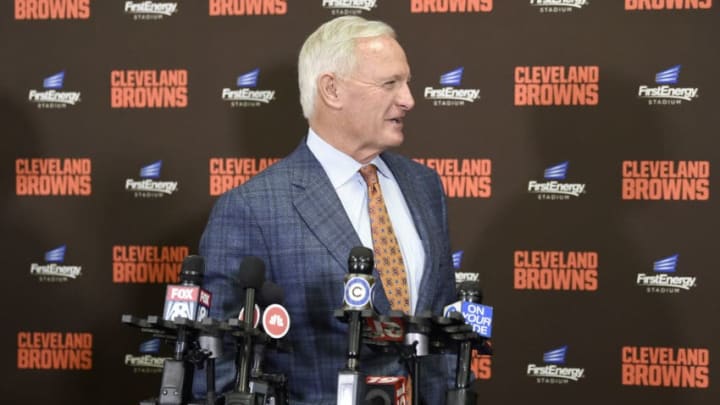 Cleveland Browns Jimmy Haslam (Photo by Jason Miller/Getty Images) /
Cleveland Browns rumors indicate candidates were reluctant to take on the GM job considering how often ownership fires employees.
Andrew Berry was officially announced 24 hours ago, but rumors involving the search for the Cleveland Browns newest football executive refuse to go away.
Pro Fotball Network's Tony Pauline was recently asked about George Paton's reluctance in taking the gig. The Vikings' assistant GM interviewed twice with Cleveland, was the most qualified for the job, and had a history with new Browns coach Kevin Stefanski.
If ownership was looking for "alignment," what better way to make sure everyone is on the same page than marrying Stefanski and Paton.
Perhaps Paton was scared off by ownership's quick trigger finger when it comes to firing its employees.
Pauline didn't write specifically to Paton, but wrote the following:
""The bottom line–there is reluctance by front office people to move their families to Cleveland…only to end up on the unemployment line two years later…It's a major concern and issue for people in their final analysis as to whether or not to take a job in the Browns front office.""
This isn't a new theory to Browns fans, who came to the conclusion back in 2014, after the Haslam's fired their second coach, Rob Chudzinski, after one season. It took the Browns a long time to find their next coach until settling on Mike Pettine.
In hiring Berry, Haslam still get his much sought after alignment, as it was reported Berry and Stefanski maintained a friendship after the 2019 coaching search. One of Berry's last acts before leaving in 2019 for Philadelphia, was helping to hire the next coach.
He reportedly favored Stefanski, and was an advocate for the Vikings' offensive coordinator.
With Browns raising ticket prices for 2020, fans will expect to see a winner, so this front office/coaching staff will open the season on the clock.
I think we can all say the future of this front office depends on Baker Mayfield. If he plays well, then the Browns will be fine. If he's 2019 Baker, then the Browns will be in trouble, probably looking for a quarterback in 2021.
Then, the analytics department will be in charge of another rebuild…and we all know just how bad things can get when that's the case.