Governor Mike DeWine bars fans from all indoor sporting events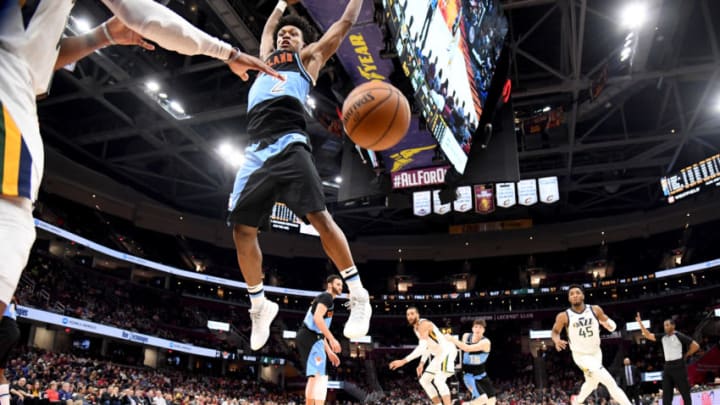 CLEVELAND, OHIO - MARCH 02: Collin Sexton #2 of the Cleveland Cavaliers tries to block an inbounds pass to Donovan Mitchell #45 of the Denver Nuggets during the second half at Rocket Mortgage Fieldhouse on March 02, 2020 in Cleveland, Ohio. The Jazz defeated the Cavaliers 126-113. NOTE TO USER: User expressly acknowledges and agrees that, by downloading and/or using this photograph, user is consenting to the terms and conditions of the Getty Images License Agreement. (Photo by Jason Miller/Getty Images) /
Ohio Governor Mike DeWine will issue a public order as early as Thursday that will ban all spectators from sporting events to slow the spread of the Coronavirus.
Gov. Mike DeWine has made it clear, it's time to limit mass gatherings in the state of Ohio in order to stem a potential outbreak of the Coronavirus. The state has already reported its fourth case out of Stark County and Gov. DeWine wants to stifle the potential of the spread with this order that will in part ban fans from sporting events.
The order, expected to be formally announced on Thursday, will see all indoor sporting events in the state of Ohio to be played as scheduled, without any spectators. This means all Cleveland Cavalier, Columbus Blue Jackets, the MAC Conference Tournaments and the NCAA games in Dayton will be allowed to be played but fans will be barred from attending.
States like Washington have already put a ban on any large groupings of 250 or more in order to try and contain the spread of the virus. Italy is on a complete lockdown at the moment with no one in, and no one out.
"There is a new, big, huge risk in your life," DeWine said. "You never thought it was coming. I never thought it was coming. But it's here. And you better calculate that risk."
The decision comes just a day after the governor suggested and advised that events bar spectators from events. The Ohio High School Athletic Association followed suit and then the MAC Tournament announced that no fans, besides a few family members and important school and television personnel would be allowed into the games.
The Blue Jackets, however, didn't follow the governor's advice and were insistent on continuing on as normal as late as last night.
The MAC Tournament has already announced refund plans for those interested, it's unsure if the Cavs and Blue Jackets will issue refunds for games, or what the NCAA will do. There are rumors the NCAA may move their games to smaller venues in preparation to play without fans, but that's just speculation at this point.