Mic Drop: Baskin & Phelps Talk Cleveland Sports on 92.3 The Fan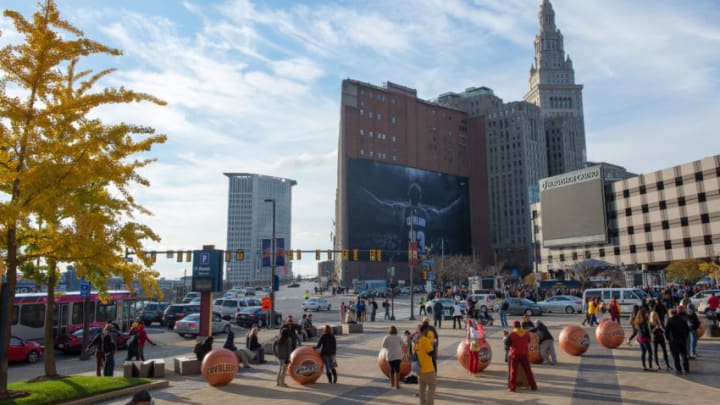 Cleveland Browns (Photo by Jason Miller/Getty Images) /
Cleveland sports media mainstays Andy Baskin and Jeff Phelps hold down the midday fort on 92.3 The Fan, where they put their stamp on the local landscape.
Sports talk radio takes on many forms across the country and even more specifically on 92.3 The Fan, but it's safe to say that Baskin & Phelps have cornered the market on what we affectionally call old guy radio. Yea, Tony Kornheiser has long used the same description for his own show, but there's certainly nothing proprietary about the label, so we're sticking with it as it applies to Baskin & Phelps.
Airing weekdays from 10 am until 2 pm, Baskin & Phelps offers a veritable melange of content, ranging from top-notch interviews to dad humor to even talk of Jeff's minivan, which would appear to have more mileage on it than a geriatric hooker. Therein lies the charm of the show, its ability to keep listeners entertained without being backed into any one corner.
Andy Baskin was a long-time presence on Cleveland television, being best known for his stint as Sports Director at WEWS, channel 5. A much-too-proud product of Cleveland Heights High, Baskin has seemingly covered everything under the sun over the course of his career, even spending five years in the sports hotbed of Missoula, Montana.
Hey, did you know that Jeff Phelps used to work in Texas? If you listen to the show you sure do, as he almost-swooningly reminisces about his five years in the Lone Star State with regularity. Also known for his work alongside Cavs legend Campy Russell on "Cavaliers Live", Jeff too is a part of Cleveland's sports media fabric.
When their focus is on Cleveland sports, Baskin & Phelps consistently conduct fun, compelling interviews with the likes of Cleveland native Chris Rose of MLB Network, unabashed Browns fan Andrew Siciliano of NFL Network, and Plain Dealer Browns beat writer Mary Kay Cabot, among many others, the show is sports radio at its informative best.
Showing their broadcast versatility, multiple award-winners Andy and Jeff can also take the former's anecdotes about youth hockey or the latter's "back in the day" reminiscing and turn it into entertaining radio. Add in the outside contributions of regular callers or 'friends of the show' and more than a few dashes of the two hosts simply bickering like an old married couple, and Baskin & Phelps becomes four hours of great talk radio.
Like most successful shows, having a strong supporting cast only enhances the product and Baskin & Phelps is no different. Of particular note is the daily installment of "Make Jeff Thomas Do It", a laugh-out-loud drop-fest that never fails to amuse and which is definitely an integral and always-anticipated part of the program.
Whether hanging on sports talk radio hosts' every last word during frenetic periods like the recent NFL free agency frenzy or simply wanting to hear enjoyable chat, 92.3 The Fan's Baskin & Phelps show delivers the goods day-in and day-out. Not bad for a couple of occasionally cranky old guys.