Cleveland Browns: 5 worst NFL Drafts since 1999 ranked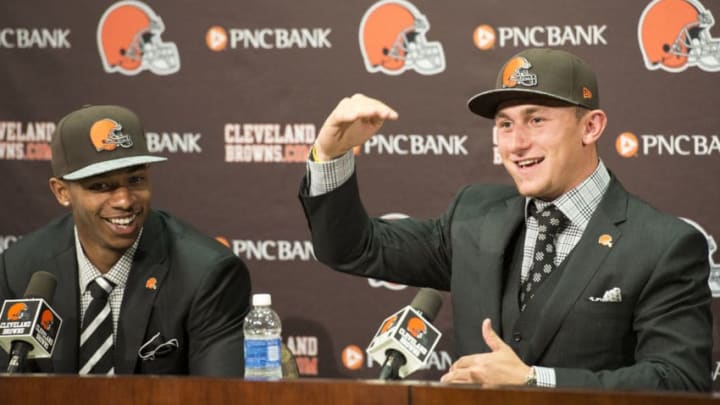 Cleveland Browns Johnny Manziel (Photo by Jason Miller/Getty Images) /
Cleveland Browns Courtney Browns (Photo by George Gojkovich/Getty Images) /
3. 2000
If you blow the first overall pick, you're on your way to building an all-time bad draft, and that was the case with the Browns in 2000.
They took Penn State defensive end Courtney Brown with the first pick, but Brown never lived up to where he was taken. Brown checked all the boxes and was supposed to be a can't miss prospect. He set Penn State records with tackles for a loss (70) and sacks (33).
It was injuries that did Brown in, but his failure to play like a No. 1 pick should was as big a misstep the Browns could take at the time. Remember, this was their second draft since being re-born a season earlier, and the roster severely lacked talent. For the team to swing and miss on Brown, well, it unquestionably played a part in the Browns losing in the early part of the decade.
Cleveland found two productive players later in the draft, drafting Dennis Northcutt in the second round and tight end Aaron Shea in the fourth.
Northcutt had a solid career, but it was lost on me that he was the 32nd overall pick.
As for the rest of the draft…Cleveland burned a third-round pick on a running back out Miami University (Travis Prentice). Receiver JaJuan Dawson was also taken in that round.
Fast forward to the sixth-round, and you get one of the most notorious picks in Browns' history. Despite taking a franchise quarterback a season earlier in Tim Couch, the front office decided to add to the QB room by taking Spergon Wynn, a passer who didn't even complete complete 50 percent of this throws at South West Texas State.
Everybody passed on Tom Brady, but knowing the Browns were in the market for a quarterback, and the brain trust chose Wynn over the future G.O.A.T., well, it tells you everything you need to know about the expansion era Browns.