Indians: The team is reloading, not rebuilding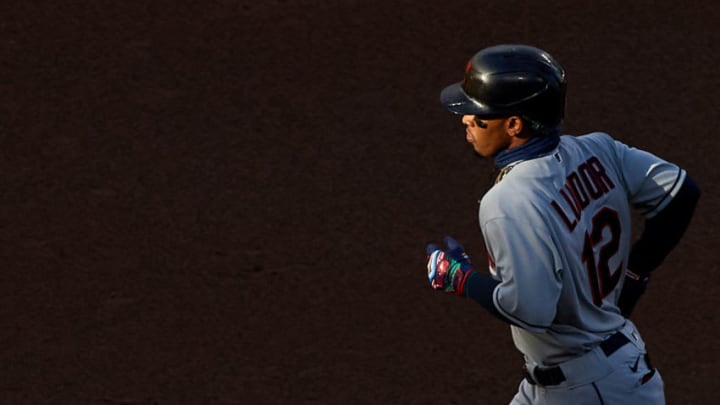 Francisco Lindor Cleveland Indians (Photo by Hannah Foslien/Getty Images) /
The Cleveland Indians had to cut payroll after the pandemic caused every MLB to lose gobs of money but the Tribe isn't rebuilding; they're reloading.
The Cleveland Indians are going to have a new look in 2021, that's just a guarantee at this point. At least three starters from the everyday lineup are gone, Cesar Hernandez, Carlos Santana, and Tyler Naquin, and more could be moved including Francisco Lindor and Carlos Carrasco. This has led some to believe that the Indians are rebuilding. Except they're not, not really. This isn't new, this happens nearly every year. The Indians replace big pieces one way or another and continue on. That's how it's been for seven years since Terry Francona came to town.
No, the Indians aren't rebuilding. They're reloading.
The Indians, ever since 2002 really with Bartolo Colon, have been a team that maximizes an outgoing player to reload its lineup. In those days, however, rebuilding took forever for a multitude of reasons. One, Eric Wedge was a fine manager but not a great coach. Players didn't really exceed their potential with Wedge and his staff. Another part of the problem was Mark Shapiro, who was a fine GM, but not great. He missed a lot with his picks, causing the team to rely on his trading talents.
In 2020, Francona and his staff are wonderful and are constantly getting the most out of guys. After all, guys like Corey Kluber and Shane Bieber weren't Clayton Kershaw or Stephen Strasburg when they were in the minors. Michael Brantley was an "also-and" in a trade that featured Matt LaPorta. The entire Indians bullpen is made up of guys that no one really knew about before they blew up on the scene. This coaching staff is great.
More so than that, the wealth of talent the Indians accumulate in the minors is pretty impressive. The biggest issue with the rebuild talk happening this year is partly due to the Indians trading away so many highly sought-after prospects like OF Clint Fraizer or C Francisco Meija who were traded away for relievers.
In 2020 the Indians had relievers, what they needed was a bat in the outfield and a bat behind the plate.
The Indians have a few big names in the minor leagues who will probably be called up either at the start of the season or shortly thereafter. The rotation the Indians have is still fantastic, even without Carassco, and should minor league players like Bobby Bradley, Owen Miller, Tyler Freeman, Nolan Jones, Bo Naylor, and Triston McKenzie all step up in 2021, this isn't a team that will be rebuilding, it'll be a team that's chasing a title.