Browns: Grading out all the 2020 free agents after year one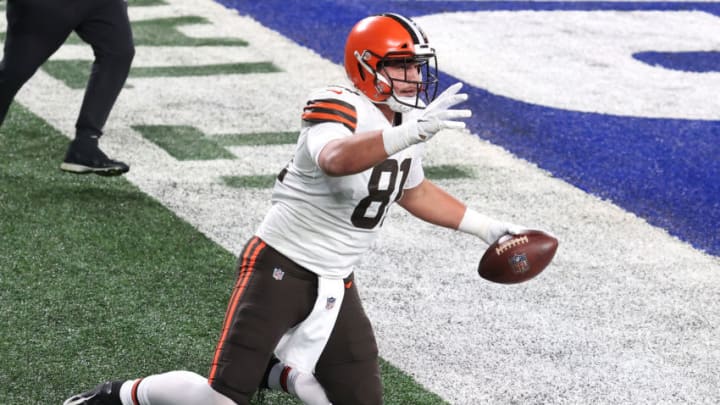 Browns (Photo by Al Bello/Getty Images) /
Just because a free agent signing was good on paper doesn't mean it remains that way after the season ends, which is true for some of these Browns as well.
The Cleveland Browns made several big moves and a bunch of other ones in the 2020 offseason. It's worth seeing who lived up to their contracts. Part of the reason to look at the crop of free agents is due to the goal of building a winner is to not only keep talent but also cap space. So deals that allow you to keep talent and movement under the cap are the most ideal.
So what all is being evaluated?
How a player performed overall.
How a player performed in relation to past accomplishments/current contract.
How that contract looks for that player after one year.
It should be noted that contracts can look vastly different in subsequent years, what may be a good contract after one year could be an awful contract after year two. Same difference. For instance, Albert Haynesworth's deal wasn't bad after one year. After two, however, he was the biggest free-agent bust of all time. Each player on this list will not just be graded by their play, but by their contract and their expectations for the year. After all, these contracts are rewarded to players for their expected performances.
If a player plays well and is on a short term deal, that hurts the overall grade because the team will likely have to then over-pay to retain them once that deal has expired. If a player underperforms and is a long-term deal, then it's a bad deal. If a player plays well and is on a long-term deal, they're more likely to get a better grade. If a player is a long-term deal that's also cheap, that's the pinnacle.
Let's get started.
TE Austin Hooper
Contract: 4 years/ $42 million
2020 Stats: 13 Gp, 70 targets, 46 receptions, 435 Yards, 4 TDs
Performance Grade: C+
Contract Grade: C
Austin Hooper came in expecting to be the guy at the position and be a Pro Bowl player for Baker Mayfield. Blame it on the lack of speed around him, the numerous tight ends vying for playing time, his injuries, or the run-first offense, but Hooper did not live up to his contract. Not when you realize that had Harrison Bryant had the same number of opportunities as Hooper, that Bryant would've had near-identical stats, for 1/10th the cost.
Bryant's similar rate of production, on a far better deal, wrecks Hooper's value. If he could be moved and save the team $30-odd million, they should. That said, they can't. Hooper's contract is a poison pill. So he's staying because there's no reason to eat $16 odd million in penalties.
He did have one huge overarching value that helped save his grade, he blocked really well. Not great. No one is going to see him become a Pro Bowler just on his blocking, but he's not a liability, so that's something.
He's also (after one year) not worth his contract either. Hopefully, that changes in 2021.