Browns: Grading out all the 2020 free agents after year one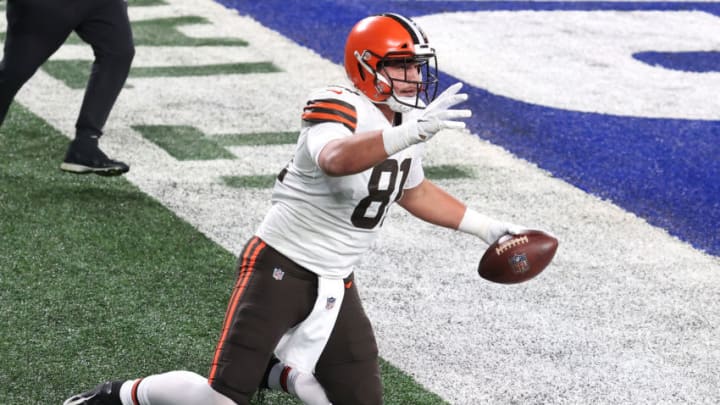 Browns (Photo by Al Bello/Getty Images) /
Cleveland Browns Andrew Billings (Photo by Michael Hickey/Getty Images) /
DT Andrew Billings
Contract: 1 year/ $3.5 million
2020 Stats: N/A
Performance Grade: N/A
Contract Grade: F
Players who sit out a year in the NFL generally speaking, don't return to form. This is a problem for the Browns and Andrew Billings because Billings wasn't seen as a starter before opting out. You see, Billings sat out all of 2020 due to COVID-19. That's not exactly a great situation to be in. Especially since guys who were far safer in their jobs like La'Veon Bell, became a shell of themselves after sitting out. How will sitting out affect Billings? Will he be as good as he was, worse, or can he somehow be even better? Him being better isn't likely, but it's possible.
The reason why this deal bottoms out at an F is two-fold. Firstly, he signed it and didn't make a single play in a Browns uniform. Sure, he had his reasons, but that doesn't change the cold hard facts of the matter. Secondly, that one-year deal he signed in 2020 was tolled over to 2021, which means that the team didn't' have to worry about it last year, but now they do. That means the Browns are on the hook for him, whether they want to be any more or not.
Sure, a lot of people think real life is a video game and they think "oh, well Billings didn't play last year so he'll be just as good but in better shape!" That's not how life works. Especially football. The longer you're away from the game, the harder it is to return to form. It's mind-boggling that this is true but it is. The Browns know this. They're stuck with Billings unless they want to eat about 75% of his contract.
A deal you can't get out of without incurring a penalty, for a talent who has proven nothing in over a year, is the pinnacle of a bad contract.
Hopefully, he can change that narrative in 2021.