Cleveland Indians count 6 players among The Athletic's top 100 prospects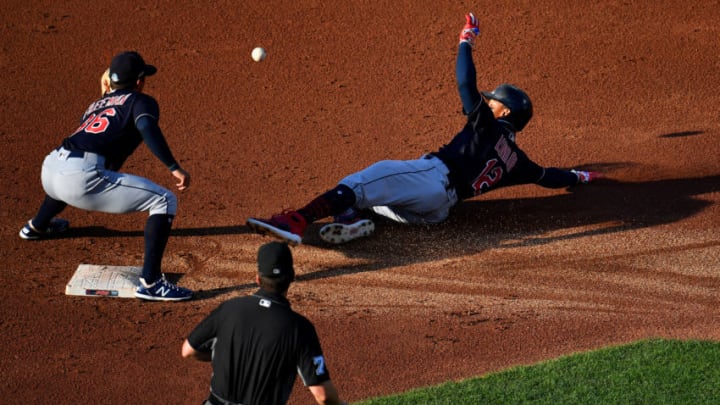 Cleveland Indians (Photo by Jason Miller/Getty Images) /
The Cleveland Indians will rely on prospects and development more than ever as the club slashes payroll.
Based off The Athletic's Keith Law's top 100 prospect rankings (subscription required), the future actually looks bright, as the Tribe has six prospects ranked.
This comes weeks after Baseball America listed only four prospects among their top 100–and two of those players are basically already big leaguers.
There is a difference between how he and Baseball America construct their rankings. BA listed Andres Gimenez as one of the Tribe's top prospects, but Law didn't list him, as he considers him a big league because he spent 65 days on the Mets active roster last season while playing the entire truncated season.
Cleveland Indians top prospect is…
Like Baseball America, Law named Triston McKenzie as the Tribe' stop prospect and No. 12 overall. Not bad, considering BA listed him 26th.
McKenzie, who made six starts among his eight appearances in 2020, will be counted on more than ever after the team's trade of Carlos Carrasco.
The rest…
1. Former first-round pick Bo Naylor clocked in next at No. 42. He didn't even make the BA list.
Law believes Naylor has the potential to a plus defender at catcher. Will he hit, though? His contact rate was above league average when he played in the Class A Midwest League (Lake County Captains) in 2019, according to Law.
2. At No. 76, George Valera may answer the Tribe's longtime quagmire at the corner outfield spots. Granted, he's just 20, so it may take a couple more seasons. Classic Indians, I know.
That said, it wouldn't be surprising to see Valera get to the majors at a younger age because he already possesses an excellent bat. The caveat being that he chases too many pitches out of the zone, according to Law.
Law added that has 30-home run potential. Valera didn't make the BA Top 100 rankings.
3. Tyler Freeman checks in at No. 78, which is close to his BA ranking of 82.
The former second-round pick will assuredly get some more time to incubate in the minors after the Tribe traded for Amed Rosario and Andres Gimenez, as well as signing Cesar Hernandez to what could potentially be a two-year contract.
As they've been saying for years now, Law wrote that Freeman is a competent shortstop, but that he'll likely be a second baseman in the big leagues.
The former second-round pick has struck out just 87 times in 997 plate appearances.
4. At No. 86, Nolan Jones was surprisingly low because he's getting a lot of run right now as someone who could make the roster, perhaps in the outfield because Jose Ramirez still plays third, as long as the Indians don't do anything stupid and trade him to the Braves.
Law listed Jones' biggest flaw as his inability to hit left handed pitching, noting that in 250 plate appearances against southpaws, Jones was slashing .167/.316/.286 with a 36 percent strikeout rate.
Law also noted that Jones has 25-homer potential and could be an "above-average regular," while adding his ability to figure out left-handing pitching will determine how high his ceiling gets.
BA had Jones ranked 45th.
5. Brayan Rocchio, as 20-year-old shortstop who was a part of the Indians' 2017 international class, has drawn comparisons to Francisco Lindor.
Law notes that he's smaller than Lindor and that Frankie was more polished at the plate when he was 20, but hey, if he's drawing comparisons to Lindor right now, we'll happily accept on his behalf.
Rocchio couldn't participate the the Tribe's alternative site because he couldn't leave his native Venezuela because of the pandemic, according to Law.
The competition
The Indians led the central with sixth prospects in Law's 100, while the White Sox and Tigers each claimed five. The Royals had three while the White Sox had two.
Interestingly enough, not one of the prospects on Law's list came to the organization as a result of trading Corey Kluber, Trevor Bauer, Mike Clevinger and Franciscon Lindor in the last year and a half.