Browns: What should Cleveland offer Texans for J.J. Watt?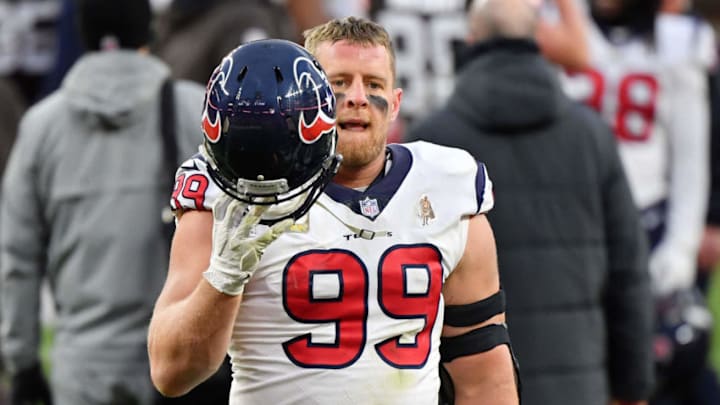 Browns J.J. Watt (Photo by Jamie Sabau/Getty Images) /
The Browns should offer a mid-round pick for J.J. Watt
As the Cleveland Browns add players in an effort to catch the Super Bowl bound Chiefs in the AFC, fans are asking about the possibility of trading for Texans star J.J. Watt.
Dealing for Watt, who is 32, seems to be everything analytics stands against. Giving up assets for a player with an injury history who's going to be a one-year rental? It might make Paul DePodesta's Harvard degree spontaneously combust.
On the flip side, Watt's massive one-year deal may make him more attractive to DePodesta and Andrew Berry. Watt is due $17.5 million in 2021, but the salary isn't guaranteed.
One optimal scenario would be trading a mid-round pick for Watt under the premise that he will re-work his cap number to get more guaranteed money this season. Cleveland.com's Mary Kay Cabot believes if this can happen, and Watt agrees to stay for two years, the Browns might think about it.
Of course, this is where it gets complicated. The Browns aren't going to be the only team pursuing Watt, so how high in the middle of the draft are you willing to go? I'd give up a third rounder and wouldn't think about it another second.
With the Browns being ready to contend, adding Watt is exactly the type of move the organization needs to take to make it to the Super Bowl if they're able to get Watt on their terms.
Watt, arguably the greatest defensive player of the last decade, only recorded 5.0 sacks last season, but he was still one of PFF's highest graded pass rushers (7th overall). Plus, Watt is only a couple seasons removed from recording 18 sacks in 2018, when he was PFF's 3rd highest-graded pass rusher.
Watt may not be the same player he was when he was winning defensive player of the year of awards, but he's still very good. Now, imagine playing opposite of Myles Garret.
As our own Chad Porto pointed out, Watt never got the opportunity to play with another true All-Pro caliber lineman.
ESPN Cleveland's Tony Grossi likened this move to when the Packers signed Reggie White. This came through free agency and not a trade, but the idea was the same. In White's age 32 season—his first with Green Bay—he logged 13.0 sacks.