Browns: If league relaxes helmet rule, team should go with this design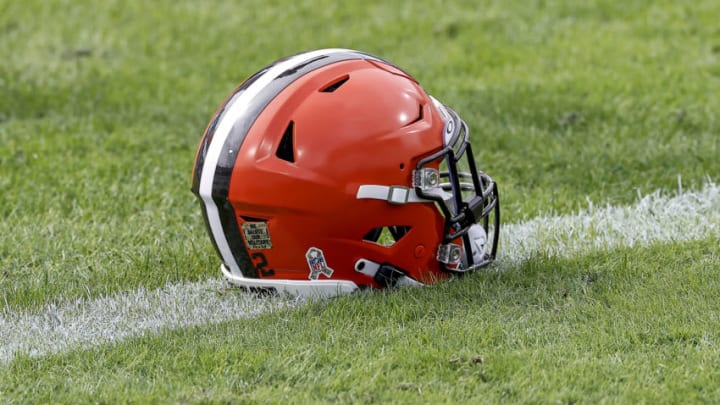 Cleveland Browns (Don Juan Moore/Getty Images) /
There's a good chance the NFL will finally relax on their "one helmet design" per team in 2021 and if so, these are the perfect helmets to use.
The Cleveland Browns may join 31 other teams in the NFL in changing their helmets for at least a portion of the season. Unlike the uniforms, which every team has three or four versions of (at least), the NFL has been especially strict on the use of varying helmets. It doesn't make much sense, as college doesn't have the same issues with that rule. So if the NFL does relax the helmet rule, there's only one alternate the team should go with.
The Riddle Cleveland Browns Eclipse special edition helmets.
There is no word yet if the NFL will change the rule for 2021, but Buccaneers head coach Bruce Arians suggested such an idea last March, that the NFL would be changing the rule. Arians then went on to suggest the team go and use the old creamsicle Buccaneers helmet as their alternate. For the sake of Tampa fans, let's hope that's not the case.
The Eclipse version of the Browns helmet is flat-black painted, which contrasts the glossy orange stripe down the center. These would look phenomenal on orange or white jerseys and would also give them a newer marketing edge to help highlight this team.
Now that the Browns have taken the next step as a franchise into respectability, being allowed to use a helmet as stylish and modern as the one seen above would only help serve to cater and attract new and lapsed fans to the team.
After all, the more Browns fans there are, the better.
It all hinges on whether or not the NFL and Roger Goddell will even allow this to happen, but if they do, then this would be a great helmet to see on the fields on Sunday. Well, every other Sunday.