Browns: Trail Blazer star C.J. McCollum is now recruiting J.J. Watt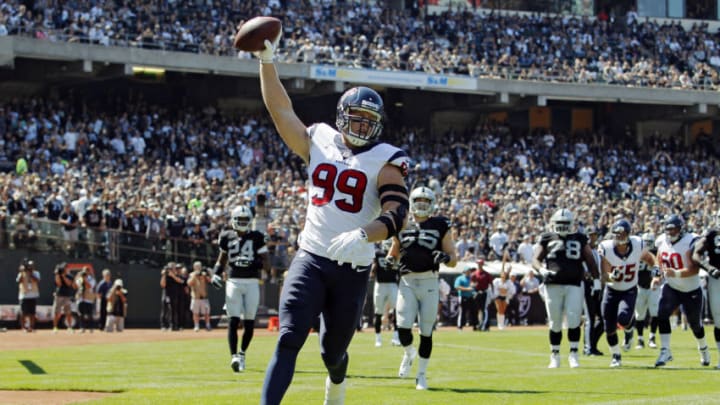 OAKLAND, CA - SEPTEMBER 14: J.J. Watt #99 of the Houston Texans celebrates after scoring a touchdown against the Oakland Raiders in the first quarter on September 14, 2014 at O.co Coliseum in Oakland, California. The Texans lead 17-0 in the second quarter. (Photo by Brian Bahr/Getty Images) /
The Browns are one of the favorite teams to land J.J. Watt this offseason and Trail Blazer star, C.J. McCollum, is doing everything he can to help.
If you're a fan of the Cleveland Browns, you have to love what Portland Trail Blazer shooting guard, C.J. McCollum is doing for the Browns. While not an official member of the front office, the Browns are getting some unexpected help in recruiting free agents from the NBA star, who is making it known that while he may play in Portland, his heart is in Cleveland. Something former Texans defensive linemen J.J. Watt is finding out first hand.
For the second time in as many weeks it seems, McCollum has reached out to a top-tier free agent trying to convince them to join to the Browns to help get them over the top for next year. The first came in the form of a pitch to free agent cornerback, Richard Sherman. The pitch even recieved a response from the future resident of Canton.
Now McCollum is trying to get Watt to consider the Land by the Lake, where it's rumored the Browns are atop the potential landing places for Watt. There's another rumor that has Watt most interested in going back to his home-state of Wisconsin as well, so we'll see what ends up happening.
As far as the Browns are concerned, they could easily get both Sherman and Watt this year, and still be well under the cap. Neither man will really warrant more than a two, three year deal tops, and will both be taking less than what they made last year.
Even if the Browns only get Watt, we saw what happenes in the playoffs with Tampa Bay when you have a front four that can continuously get pressure all game long. The Browns don't  have that, not even when Myles Garrett is healthy is he consistently getting pressure.
Not only that, but Watt brings a versatile that not many have at his position; the ability to play end or tackle.
Watt played in a 3-4 for most of his career, and did so as a defensive end. His gap-assignments were similar to that of a defensive tackle in a 4-3, so Watt could easily come in and play anywhere on the line and truly be a wrecking ball. Try double teaming Watt or Garrett when they're lining up next to each other.
That would be fun to watch.