Browns: Former Madden cover star Peyton Hillis to star in new movie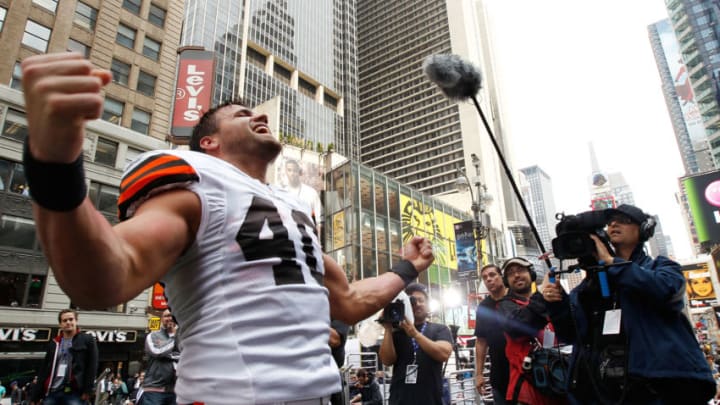 NEW YORK - APRIL 28: Peyton Hillis #40 of the Cleveland Browns participates in a photo shoot for the cover of EA Sports Madden NFL 12 on April 28, 2011 in Time Square, New York City (Photo by Mike Stobe/Getty Images for EA Sports) /
 Peyton Hillis made waves in 2010 when he rushed for over 1,100 yards with the Browns but now in retirement, he's giving acting a go.
Peyton Hillis was someone who should've been much better than what he really was. He averaged 4.5 yards-per-carry in his first three seasons and had 17 touchdowns on only 351 attempts. That's not a bad rate. He rushed for 1,574 yards in that span, 1,177 in his first year with the Cleveland Browns.
That year, Hillis made it cool to jump over defenders as they attempted to tackle you. He also won the Madden cover fan contest, defeating Michael Vick in the finals. A humbling experience but that led to a 2011 that fell apart. Injuries and contract issues marred Hillis, then injuries in the subsequent years took the rest.
When he's not ranting about how steroids don't matter in baseball, Hillis is apparently acting.
You did not misread that.
The man who once caused so much drama in the Browns locker room to the point he called Joe Thomas a "crazy ex-girlfriend" is now starring in his own drama of sorts. Well, a horror film. Kind of like his last year in Cleveland. Hillis will star alongside former NASCAR driver Matt Tifft, Angela Cole, Daniel Repas, Heidi Azaro, and others in a new horror flick called The Haunting.
Mark Andrew Hamer directed and co-wrote the film with Heather Ryan and will feature Hillis in the dual role of Matt and Connor. The IMDB synopsis and cover photo give away that this a werewolf film and further photos suggest Hillis will play the werewolf.
"When a mysterious animal attack leaves a mutilated body in the forest, a conservative small-town detective must enlist the help of an eager wildlife specialist to uncover the dark and disturbing truth that threatens the town."
This is Hillis' first acting gig but it won't be the first time a former Browns running back transitioned to film making. Jim Brown starred in the Dirty Dozen, The Running Man, and my personal favorite Mars Attacks!
Whether or not the film is any good remains to be seen. Right now distribution hasn't been announced, though it'll probably go right to streaming.
Expect a full review when this epic comes out.