Browns: Malik Jackson is a viable but short term fix for Cleveland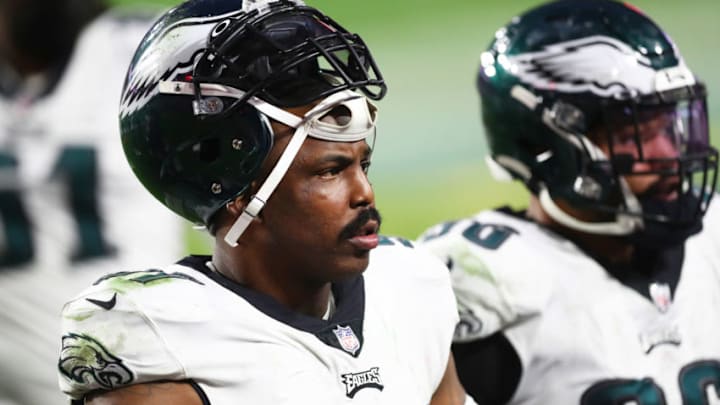 Dec 20, 2020; Glendale, Arizona, USA; Philadelphia Eagles defensive tackle Malik Jackson (97) against the Arizona Cardinals at State Farm Stadium. Mandatory Credit: Mark J. Rebilas-USA TODAY Sports /
The Cleveland Browns signed former Jaguars, Broncos, and Eagles defensive tackle Malik Jackson and will be a contender to start.
The Browns spent 2020 revamping their offensive line, then spent 2021 revamping their secondary. In 2022, the team will revamp its defensive line, watch. Expect the Browns to focus on the defensive line, specifically, the interior in the 2022 NFL draft. The Browns are making similar choices at those positions this year, as they did last year in the secondary. Older, one-year contract players or guys who have something to prove. That explains Takk Mckinley and recently signed tackle, Malik Jackson.
The explanation isn't hard to understand, they needed something different at those positions this year, as they underperformed last year, but the Browns just can't throw $13 million at every player they want without shredding their cap. So you have to sign some guys to bargain deals.
Jackson should enter the 2021 season as a starter at tackle. The Browns let Larry Ogunjobi go in free agency, going to the Bengals, opening competition for the spot. There's at least one spot open but there could be two. Sheldon Richardson is a player the Browns could move on from before the end of his contract. He's going to cost $12-odd million this year, but if they move on from him they'll only have to pay him $1.6 million.
If Cleveland decided they can get a top-flight player, or someone much younger, and all they have to do is cut/trade or restructure Richardson's deal, then you know they will. So Jackson will have an ample opportunity to start for the Browns.
Right now, there aren't a lot of great options in free agency at defensive tackle. Yes, there are some good players who aren't signed at the moment but they all have something. Jackson was probably the best free-agent option but even then, he's not a great option or a long-term fit.
Cleveland now has a rotation of tackles that include Richardson, Jackson, Jordan Elliot, and 2020 signing Andrew Billings. It's not impressive or deep but it's at least different than what the team had last year, so there stands the possibility the interior will be better.
Porter Gustin will likely be back on his tender, and the Browns have Myles Garrett still, as well as bringing in the previously mentioned Mckinley. Just about everyone wants the Browns to sign one more guy at defensive end, or draft someone pretty high in the draft. With Trey Hendrickson off the board, there aren't many free-agent options left, so the draft might be the way to go.
This again harkens to the theory that Cleveland will chase after defensive tackles in 2022.
With that theory in the back of your mind, it makes sense that the Browns have pretty much secured themselves at defensive tackle for the year. It'll be interesting to see how this short-term, makeshift group handles the pressure.