Cleveland Indians: Harold Ramirez, Daniel Johnson, tale of two debuts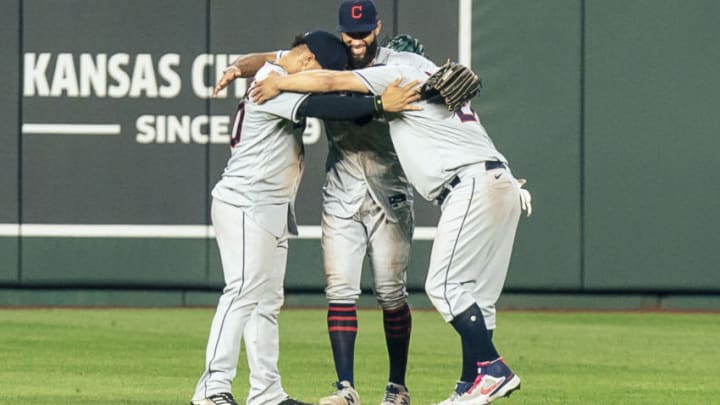 Cleveland Indians (Photo by Kyle Rivas/Getty Images) /
Opportunity is knocking for Harold Ramirez, and the former Miami Marlin isn't waisting his time leaving an impression on the Cleveland Indians.
He made a spectacular debut during the Tribe's 8-6 opening game win against the Royals Monday night. Ramirez was promoted following a groin injury to Jordan Luplow, combined with the fact that Cleveland will face three left-handers in the first three games of the series.
Make it so they can't send you down, Harold. OK, I'm overdoing it a bit, but it so refreshing to see someone other than. Franmil Reyes and Jose Ramirez not look lost at the plate. Ramirez doubled in his first at bat and later singled. He also scored a run.
Don't forget that Ramirez was a middle-of-the-order threat for Marlins in 2019, when hit hit .276 and knocked 11 homers and 20 doubles in 119 games. That Miami team was terrible, but Ramirez was productive. He only appeared in three games with Miami during last year's truncated campaign.
Daniel Johnson struggled in 2021 Cleveland Indians debut
Perhaps Daniel Johnson could take a cue from Ramirez.
Johnson got promoted for last weekend's series against the White Sox after Reyes went on the paternity list over the weekend. Johnson was awful, striking out five times in nine plate appearances against. Woof.
Save it. I know it's baseball and no determinations can be made off such a small sample size, but proving something from the second you take the field is a great way to show that you belong on the team.
This particularly applies to Johnson, who had a great spring and was upset that he was demoted. After a horrible debut, Johnson was promptly demoted to the Taxi squad, even with an outfield spot opening up due to Luplow's injury.
If Ramirez keeps hitting, it'll be interesting to see what transaction the Tribe makes. They're not going to part ways with Luplow. He's batting an ugly .183, but carries an .886 OPS. He's shown some power (six home runs), but obviously, you'd like to see that average go up a little, even in the age of home runs or bust.
Ramirez may go 0-for-his-next 20, who knows? He seems like he can hit a fastball. Whatever his future may be though, after one game, he's left us wanting to see more, and for a guy trying to stick on the roster, that's all you can do.