Indians: A reason Cleveland may have become a pitching factory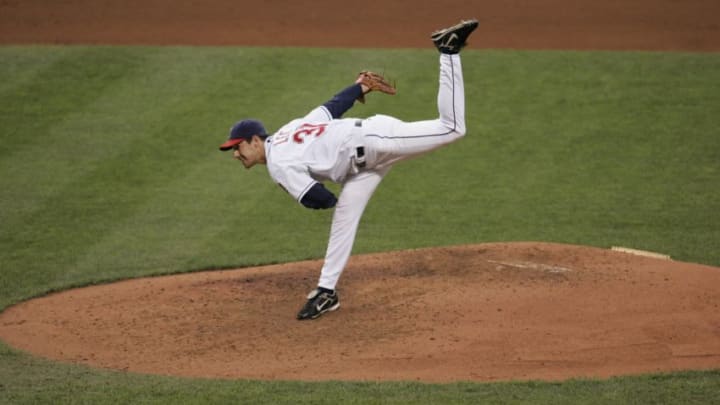 CLEVELAND - APRIL 30: Cliff Lee of the Cleveland Indians pitches during the game against the Seattle Mariners at Progressive Field in Cleveland, Ohio on April 30, 2008. The Indians defeated the Mariners 8-3. (Photo by John Reid III/MLB Photos via Getty Images) /
The Cleveland Indians produce top arms, but what is their secret?
Heading into the 2007 season, the Cleveland Indians were a bad pitching club. They weren't just lacking the talent on the field, hey look, Paul Byrd, but they didn't develop a lot of talent either. For about a decade, the two best starting pitchers the team produced were Bartolo Colon and Jarrett Wright. That's so dang sad to think about.
Then came C.C. Sabathia in 2001. He became an All-Star several times in his career, but heading into 2007 he was never a real Cy Young candidate. Not once. In 2007 he won the award. Just like that the Indians were born anew. Cliff Lee, Sabathia's rotation-mate, was already a top-four finisher for the Cy Young in 2005 but in 2008 he went 22-3, with a 2.54 ERA, bringing home the Indians second-straight Cy Young Award.
From 2007 and on, Roberto Hernandez, Trevor Bauer, Carlos Carrasco, and Corey Kluber all finished in the top of the Cy Young Awards' voting, with Kluber taking the award home twice. During that time as well, Danny Salazar and Justin Masterson made the All-Star game. Now of course there's the Ace of the AL, Shane Bieber.
So for the last 14 years, what's been the constant factor?
It hasn't been the pitching coaches, though they've helped. Carl Willis started it off with Sabathia and Lee, then men like Tim Belcher and his replacement Ruben Niebla came on and that helped. Disgraced coach and manager Mickey Callaway oversaw his fair share of prospects until he left for the Mets, which prompted the return of Willis.
Willis got Lee and Sabathia Cy Young awards, and Callaway was instrumental in getting Kluber his awards, and recent addition Bieber benefited from Willis.
Though both of those coaches are vastly different and it's not like the team manager was the deciding factor. In 2007 that was Eric Wedge and from 2014 and until now it's been Terry Francona (with an assist from Sandy Alomar in 2020).
So if it's not the coaching, what is it?
The Indians succeed because of their culture.
If you take out the fact that managers, coaching staffs, scouts, and everyone in between have been overhauled, rotated out, or were moved on from, that only leads one thing; the front office.
Since that time, the Indians have seen three key figures in Mark Shapiro, Chris Antonetti, and Mike Chernoff run the organization. Shapiro joined the Indians in 1991 and didn't leave until 2015. Antonetti joined in 1999, and Chernoff in 2003.
The Indians aren't a team that has long-tenured players, that's the economics of baseball, but they've had some pretty good talent leading the squad. Shapiro is often seen as the inferior version of the other two, which is fair, but also remember the team was successful with him as the GM and then the President. He won the executive of the year twice (2005, 2007), and was the architect of the team for a long time. In fact, one of the last things he did as president was help get the team, Terry Francona.
Antonetti replaced Shapiro as GM after Shapiro was promoted to team president. Durin Antonetti's first few years as GM, the team was was horrid. Partly due to salary slashing and bad scouting but you can't ignore how bad Manny Acta was either. Antonetti helped get Francona, then delivered the team Nick Swisher, Jason Giambi, and Michael Bourn. This was also when the Tribe started seeing guys like Carrasco, Kluber, Salazar, Bauer, and others start developing as potential stars for the club.
Of course, Chernoff has just continued on after his predecessors. Which is interesting to think about, the Indians have not fired their GM since 1999.
So it seems like there's a culture in place. Whether or not it's a fancy buzzword, a crop of scouts, or a specific set of markers that the team has been trying to find in players for over 20 years, it works. It's successful.
In fact, it's proven to be more effective replacing players in Cleveland than sinking $30 million in them and ruining the flexibility of the team going forward. The men leading this team have proven to know what they're doing.
It's time to start realizing that.