Cavs: Josh Giddey could do well with Cleveland in the right circumstances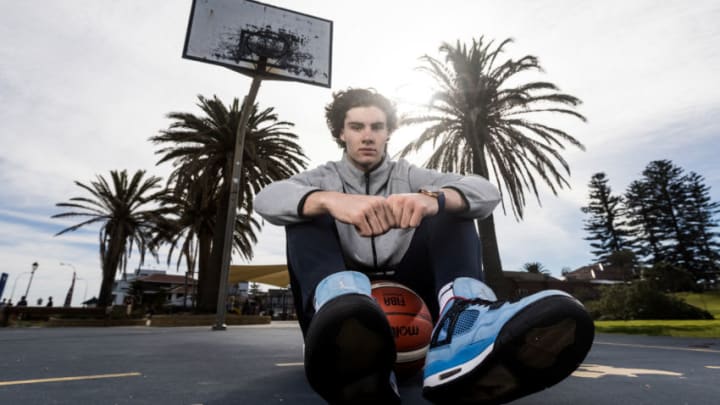 ADELAIDE, AUSTRALIA - MAY 23: Josh Giddey poses during a portrait session in Brighton on May 23, 2021 in Adelaide, Australia. (Photo by Kelly Barnes/Getty Images) /
The Cavs could be looking at Josh Giddey in the 2021 NBA Draft.
Josh Giddey was a name brought up by the folks at Cleveland.com as they break down the top prospects in the 2021 NBA Draft and how they'd fit in Cleveland. Giddey, a 6'8 G/F type, is primarily a ball-handler. Think the Ball brothers, but not nearly as good of a three-point shooter as LaMelo, but maybe better than Lonzo. Giddey isn't a guy that may be easily added to the starting rotation with his skill set, but if certain moves happen he could be an option.
The NBADraftRoom broke him down as follows;
"Giddey is a skilled ball handler who can drive to the hoop with either hand. He's got great height for a point guard allowing him to pass over the defense and use his superior court vision to get easy shots for his teammates. He controls the pace of the game and never seems to be rushed or in a hurry. … Giddey is a good outside shooter who shoots a set shot with good accuracy. He doesn't have the quickest release and will have to speed up his shot to excel at the next level.\"
While The Ringer notes that Giddey isn't great at dealing with man-to-man defense.
Josh Giddey fits a few scenarios.
Firstly, you're not taking him in the top five. You'd definitely take him if you're picking around the eighth or ninth spot in the draft. It'd be a bit of a reach at that point, but the Cavs reached for Isaac Okoro. Sometimes it's ok to reach for a guy if you really believe in him. After all, better take him while then waste more assets trying to get him in a trade after the fact.
If the Cavs opt to trade Darius Garland or Cedi Osman, Josh Giddey fits perfectly in the team's need as a second-primary ball-hander. His court vision is top-notch and while his three-point shot needs works, a lot of rookies need to improve their accuracy from that range. His ability to rebound, score inside, and feed shooters is incredibly necessary and his size allows for a more versatile lineup.
If the Cavs keep Osman and Garland but move on from Collin Sexton, Giddey may still have value if the team gets him as a second draft pick. If he's taken alongside someone else, then the Cavs may have improved their bench scoring ability. Yet, if the team keeps all three players, Sexton, Garland, and Osman, then Giddey may not find the time needed to develop.
He's not a perfect prospect but he's a name to keep an eye on.