Cavs: Charge unveils look for upcoming debut season in Cleveland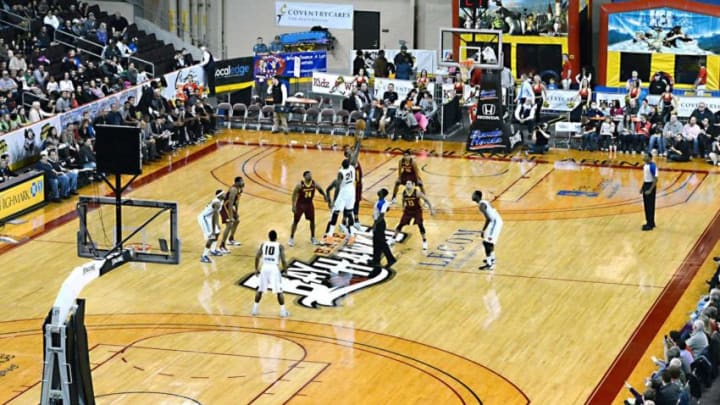 The Erie BayHawks begin their season against the Canton Charge at Erie Insurance Arena in Erie on Nov. 22, 2013.P9bayhawks112213 /
The Charge unveiled their court and jerseys for their Cleveland debut in 2021.
The Canton Charge is no more, long live the Cleveland Charge! While the city of Canton lost out on the G-League affiliate to the Cleveland Cavaliers, they at least get to keep the National Pro Football Hall of Fame, so they're not left empty-handed. Cleveland, however, gets another team wedged in the city limits. This now gives the city five pro sports teams including the Charge, Cavs, Browns, Indians, and the Monsters.
The Charge hyped up their debut in Cleveland by unveiling their logos for the year, alongside their jersey designs and court layout. Since they're affiliated with the Cavaliers, their colors and logo reflect that; much like how the Indians' minor league teams try to reflect the Tribe.
There's been a growing push to get more eyes and attention on the G-League, much akin to how fans follow the minor leagues of baseball. Last year the G-League allowed non-draft-eligible players to join the league instead of college if they so wish, and that has helped interest greatly. The NBA even let them create a non-city-affiliated rookie team, the Ignite, to help showcase the talents of these players.
This looks to have been a one-year idea though for the Ignite.
Charge's proximity should help pique interest with Cavs fans
The more interest fans have in all levels of sports, the better they're going to get paid. The minor league system of baseball sees guys making a nice wage in Double-A and can make mid-six figures in Triple-A. If more fans watched, the players would make more. Same thing for the G-League.
More from Cleveland Cavaliers
Not only would they have more cash to play with as teams, but the fans could get more accustomed to watching these guys and would be more excited when they came up to play for the Cavs.
The G-League would benefit by appealing to more prospects and getting them placed into the program. This would allow these teams to properly market them prior to the draft, build up the team's brand and the player's brand. Even better, if the NBA wants the G-League to succeed, they should start letting players get drafted out of high school, but have to play two seasons with the club until they're of age.
Either way, with the Charge being in Cleveland, it feels far more likely that some fans, maybe not a lot of fans but some, will take a vested interest in the Charge.