Browns: 3 reasons Baker Mayfield should be next in line for a deal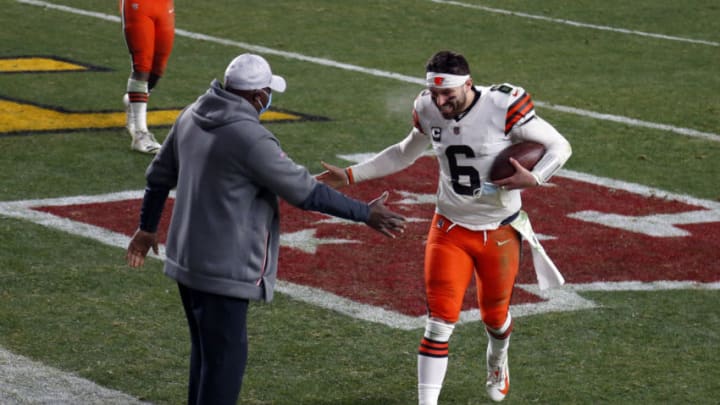 PITTSBURGH, PA - JANUARY 11: Baker Mayfield #6 of the Cleveland Browns celebrates against the Pittsburgh Steelers on January 11, 2021 at Heinz Field in Pittsburgh, Pennsylvania. (Photo by Justin K. Aller/Getty Images) /
Cleveland Browns (Photo by Jason Miller/Getty Images) /
He's shown the ability to lead
Baker Mayfield has shown a tremendous ability to lead since he arrived in Cleveland. While 2019 was a very rocky outing for the quarterback, that was not a good year for anyone. Let alone Mayfield. Yet, in all three years he's been with the Browns, most notably in 2018 and 2020, Mayfield showed exactly what it means to be a leader.
In 2018 he took over for Tyrod Taylor, and kept the locker room together, even after the firing of Hue Jackson. While Mayfield didn't show Jackson the most respect after getting fired, he was mature enough to keep the team and nearly guided them to a .500 record, falling just one win short at 7-8-1.
2019 was a monstrous year and was mismanaged by Freddie Kitchens. Maybe he wasn't ready, maybe the ownership failed him, who knows. The only thing that was obvious was that the Browns' offense was anything but good and the team severely underperformed. The blame on Mayfield's play could be due to poor coaching, an inept system, a bad offensive line, or even just Mayfield trying to force too much. Regardless, the team didn't quit and Mayfield came out of that season ready for more.
Then in 2020, a pandemic hit, Mayfield kept everyone on-page and had a tremendous year. All the while doing it with his fourth head coach in three years. If he hasn't yet proven he can lead to his doubters, then it's because they simply don't want to admit they were wrong.