Browns: 3 reasons Baker Mayfield should be next in line for a deal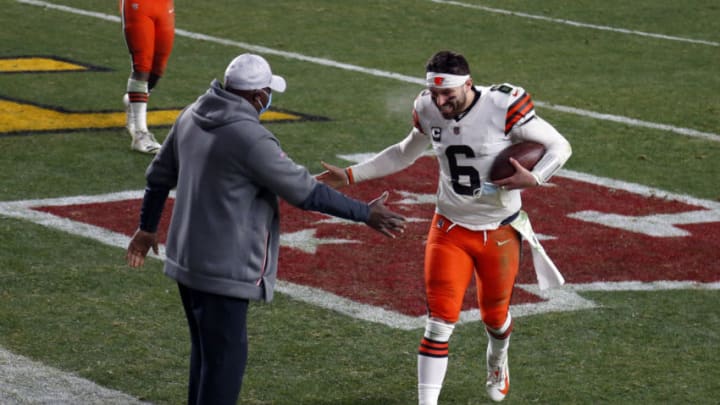 PITTSBURGH, PA - JANUARY 11: Baker Mayfield #6 of the Cleveland Browns celebrates against the Pittsburgh Steelers on January 11, 2021 at Heinz Field in Pittsburgh, Pennsylvania. (Photo by Justin K. Aller/Getty Images) /
CLEVELAND, OHIO – JANUARY 03: Quarterback Baker Mayfield #6 of the Cleveland Browns passes during the first half against the Pittsburgh Steelers at FirstEnergy Stadium on January 03, 2021 in Cleveland, Ohio. The Browns defeated the Steelers 24-22. (Photo by Jason Miller/Getty Images) /
Adapted while excelling without much consistency
There's a common talking point among the media that Baker Mayfield excelled in 2020 with "all of these weapons and the best offensive line in football." Yet, that's not completely true. Yes, the Browns have talent, obviously. Not that it takes away from Mayfield. No quarterback can win without it. None. Ever. Tom Brady always had elite guys around him, even now. Drew Brees too. Peyton Manning had the best crop of receivers a quarterback had ever had up until that point, twice, with two different franchises. Mayfield, however, did win without a healthy offense.
So this isn't a shot at the talent around Mayfield. It's simply admitting that Mayfield was the only consistent part on the offense last year; not that everyone else was bad.
Jarvis Landry didn't play nearly as well as he had in the past and that was due to injury. He came on strong in the last quarter of the season but he still wasn't the same. Odell Beckham Jr. missed most of the year and when he wasn't hurt, was largely ineffective as well. Nick Chubb missed a quarter of the season. Wyatt Teller missed more than a quarter, and he was just one of five key offensive linemen that missed time due to injury. Not to mention Austin Hooper missed three games as well.
The injuries didn't all happen at the same time either, it was continuing throughout the regular season.
It wasn't even just the injuries, Mayfield had to deal with some of the most unpredictable and outlandish weather any Browns' team has seen in the months of October and November. We're talking games that had 30 miles per hour winds whipping through the stadium. Considering how the stadium funnels wind in due to its shape, the wind was even faster inside.
Yet, Mayfield persisted. Considering how bad the Texans' and Raiders' quarterbacks played in the wind-affected games, you can't blame Mayfield for those bad days. Bad days the Browns' managed to win. Thanks in part to Mayfield.