4 Cleveland Browns who owned Giants in 2021 joint practices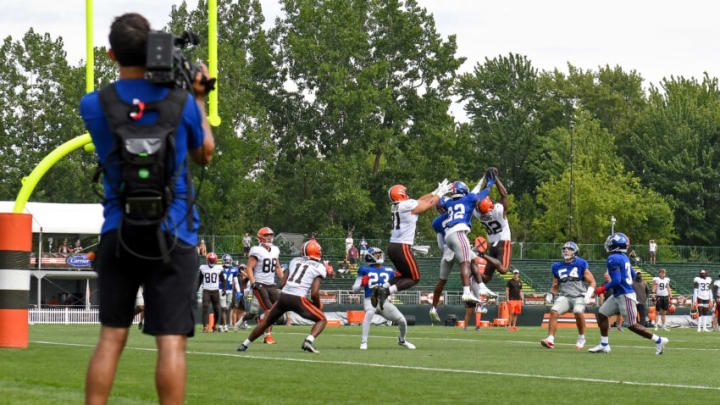 Cleveland Browns (Photo by Nick Cammett/Getty Images) /
Cleveland Browns (Photo by Nick Cammett/Getty Images) /
The New York Giants, fresh off a practice with the Cleveland Browns, strolling down Front Street in Berea. Something about the sign of those charter busses passing by Baldwin Wallace just brought a smile to my face.
Berea is home to the Browns–and that's the way it should be. The training facility sits on Lou Groza Boulevard, a street named after an NFL legend who would go on to make Berea his home, selling insurance after his hall of fame career came to end.
As for practice, the joint ventures with another team are now the in thing to do for NFL teams, as the coaches have a little more control over the speed at which things are played, compared to everyone going 100 percent in a preseason game situation.
Everything seemed to go smoothly, until practice actually ended, and Browns cornerback Troy Hills and Giants wideout Sterling Shepard traded punches.
The brew-ha-ha unfolded strangely, as practice was over. The long, hot and humid session had ended and it was time to go. It was family day at the field, and Baker Mayfield was off taking pictures with a group of people presumably related to Myles Garrett (they were all wearing the No. 95 jersey).
Other players were walking into the locker room. A few guys were just standing around and talking with their counter parts. Then, just like that, a melee takes place. I saw a punch thrown. I can't remember if it was Hill or Shepard, but whoever it was, really cocked their arm back to get maximum velocity on the follow through.
The situation diffused pretty quickly, which made me the two were joking around. Turns out, that was not the case.
Ah camp. After sitting out 2020, it was great to be back.
Here's a look at four Browns player who really earned their stripes in the two-day practice sessions. And since you're here, here's some Browns who could be in jeopardy of being cut after the Giants' contest on Sunday.