Indians: 6 prospects that completely impressed during the 2021 season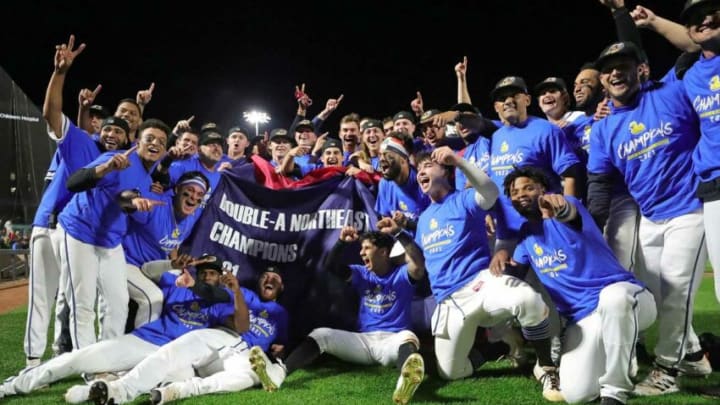 The 2021 Akron RubberDucks celebrate after a walk-off win against the Bowie Baysox in the Class AA Northeast Championship at Canal Park, Friday, Sept. 24, 2021, in Akron, Ohio.Rubberducks 13 /
Akron RubberDucks batter Oscar Gonzalez (39) watches his hit to left field for a three-run homer during the second inning of a baseball game against the Trenton Thunder at Canal Park, Tuesday, Aug. 13, 2019 in Akron, Ohio. [Jeff Lange/Beacon Journal/Ohio.com6e66553d B451 58b6 9a86 B /
5. OF Oscar Gonzalez
Ranked No. 49  in Prospect1500's list of the Indians' top minor league players.
You should be paying attention to Oscar Gonzales. The 23-year-old outfielder split time between Double and Triple-A, hitting relatively the same across both levels, but with a bit more success in Akron.
During his season split across both teams, Gonzales compiled splits of .291/.327/.531 and an OPS of.859 OPS. In 486 at-bats, he had 134 hits, 22 doubles, 29 home runs, 78 RBI's, 21 walks, and 105 strikeouts. With the Indians having a few key players who like striking out too much, it might be time to start helping these guys cut down on them.
Gonzales is one of those guys who could benefit from some increased attention to his plate vision. Chasing after balls may be fine with some advanced analytic types, but in reality, it just shows a lack of discipline and an over-eagerness.
Gonzales is a guy who if properly coached could be a 40 home run guy every year. Heck, in just 117 games he hit 78 RBIs. If he kept that pace over 162 games then Gonzales would've had 108 RBIs and just about 40 home runs. The Indians could've used that. Plus considering the outfield situation, it wouldn't hurt to have someone of his skillset out there patrolling one of the corner spots.
After all, it seems unlikely that the Indians return all of their outfielders from 2021.