Indians: 6 prospects that completely impressed during the 2021 season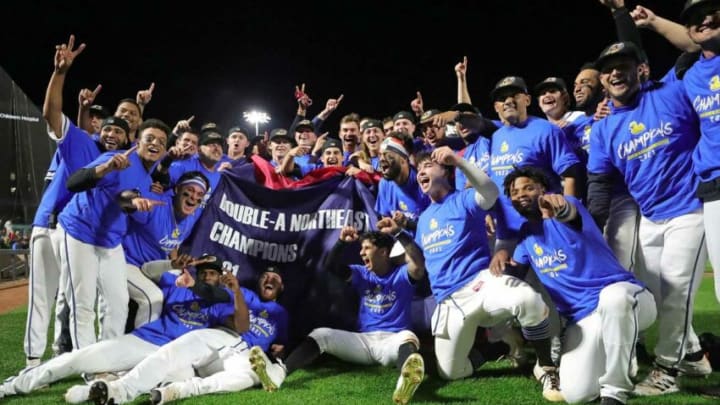 The 2021 Akron RubberDucks celebrate after a walk-off win against the Bowie Baysox in the Class AA Northeast Championship at Canal Park, Friday, Sept. 24, 2021, in Akron, Ohio.Rubberducks 13 /
RubberDucks Tyler Freeman dives for a ground ball by Binghamton Rumble Ponies Mark Vientos in the fourth inning of the Ducks home opener at Canal Park in Akron on Tuesday May 4, 2021. Freeman made the stop and threw to first for the out. The RubberDucks beat the Rumble Ponies 5 to 4 in the bottom of the ninth inning.Ducks 2 /
4. SS/2B Tyler Freeman
Ranked No. 3 in Prospect1500's list of the Indians' top minor league players.
Tyler Freeman has proven to everyone why he's ranked as high as he is in various evaluations of minor league prospects. He's a strong, frequent hitter. He's clever at the plate and doesn't bite too often at bad pitches. His biggest issue is staying on the field. For one reason or another, he's only played 100+ games in a season just once.
Finding out if he can sustain himself over the course of a full season is imperative to the success of callups. It's fine if you can play very well for a few games but what about an entire season?
Freeman is a career .319 hitter and that number only went up in 2021. He posted some impressive splits, 323/.372./.470, and an exciting OPS of .842, especially for a guy who isn't known for his power-hitting. In 2021, he had 164 at-bats, 53 hits, 14 doubles, two home runs, 19 RBI, eight walks, 21 strikeouts. Granted across just 41 games but that's a great stat line.
Defensively he's very good but may never be an elite defensive guy. It's possible he can, but it may come at second base and not at shortstop. The good news here is that Freeman can arguably play anywhere on the field, in or out.
That kind of versatility makes him someone the team should truly look at during spring training.