Indians: 6 prospects that completely impressed during the 2021 season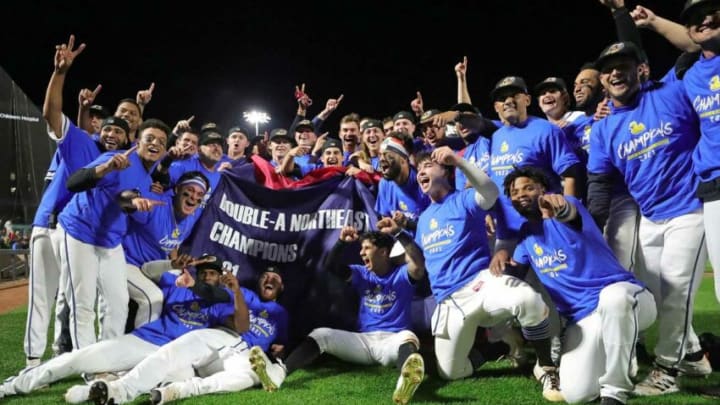 The 2021 Akron RubberDucks celebrate after a walk-off win against the Bowie Baysox in the Class AA Northeast Championship at Canal Park, Friday, Sept. 24, 2021, in Akron, Ohio.Rubberducks 13 /
RubberDucks Steven Kwan safely steals third as Binghamton Rumble Ponies Edgardo Fermin applies a late tag in the first inning of their game at Canal Park in Akron on Thursday May 6, 2021. The Ducks beat the Rumble Ponies 9 to 2.Ducks57 10 /
3. CF Steven Kwan
Officially Unranked in Prospect1500's list of the Indians' top minor league players.
Steven Kwan has been getting the shaft for some time now. A career .300 hitter, and a good defender, Kwan keeps getting overlooked for more trendy stars. Yet, all he does is hit and catch. He's a calm presence at the plate and a steady glove in the grass, yet he is stuck looking at others higher than him.
After 2021, that changes. He should finally be seen as one of the best minor league prospects the Indians have. After all, it's not about raw talent but consistency. Who cares if he's not smashing 40 home runs a season (20 is very possible), because he's routinely hitting .300.
Those are the kind of hitters you can build a winner with. His splits for 2021 are among the best in the organization, minors or majors, .325/.403/.525 with an OPS of .928. He finished the year with 280 at-bats, 91 hits, 15 doubles, 11 home runs, 42 RBIs, 33 walks, and just 31 strikeouts.
He's someone who made waves in Double-A and Triple-A and should be in contention for a spot in the Majors in 2022, especially with the state of the outfield. Right now, no one but Myles Straw is really safe. We have no idea how Josh Naylor will heal and Bradley Zimmer hasn't exactly shown himself to be the most reliable guy at the plate.
Kwan, who's only 23-years-old, could be a major league candidate in 2022.