Indians: 6 prospects that completely impressed during the 2021 season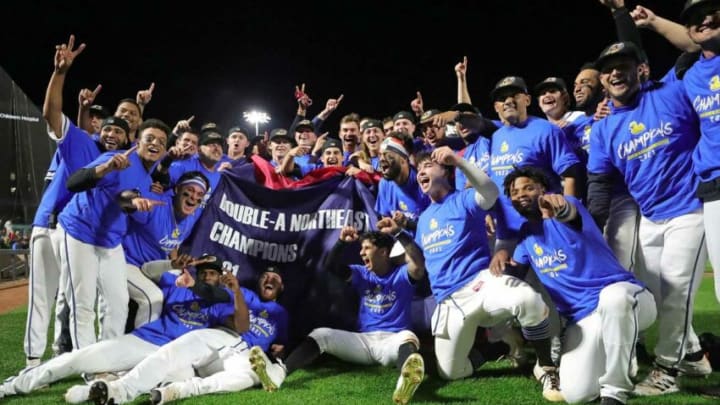 The 2021 Akron RubberDucks celebrate after a walk-off win against the Bowie Baysox in the Class AA Northeast Championship at Canal Park, Friday, Sept. 24, 2021, in Akron, Ohio.Rubberducks 13 /
2. 1B/3B Jhonkensy Noel
Ranked No. 21  in Prospect1500's list of the Indians' top minor league players.
Jhonkensy Noel is someone that fans are going to want to get to know. He hasn't hit Double-A yet, but the 19-year-old Noel is one of the more intriguing corner players the team has. Not just offensively but defensively as well.
He had 19 in his first year as a pro, seven in his second, and in 2021 he had just five errors all season long. His splits for his entire 2021 season are fantastic, .340/.390./615 OPS with a killer OPS, 1.005, to boot.
The craziest stat, however, isn't his 90 hits, 19 home runs, 66 RBIs, 17 walks in 265 at-bats, nor is it his impressively low number of strikeouts of just 62. No, his best stat came in Lynchburg, where the corner infielder hit a shocking .393 across 38 games.
We knew he had power, and we know he can field, but to be that consistent for that long isn't easy at all. He has a huge upside, which is why he's No. 21 in the organization among all minor league prospects according to Prospect 1,500.
With how well he's been doing so far in the minor leagues, expect him to be a difference-maker at some point in time over the next three years or so. Noel may be one of the most quietly complete prospects the team has.