Darius Garland rightfully deserved an All-Star nod but so did Jarrett Allen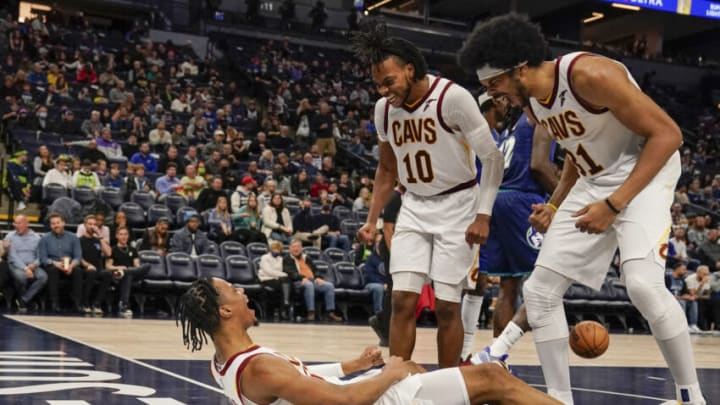 Dec 10, 2021; Minneapolis, Minnesota, USA; Cleveland Cavaliers forward Isaac Okoro (35) reacts to getting the basket and the foul with guard Darius Garland (10) and center Jarrett Allen (31) against the Minnesota Timberwolves during the third quarter at Target Center. Mandatory Credit: Nick Wosika-USA TODAY Sports /
Darius Garland will represent the Cleveland Cavaliers in the All-Star Game.
Cleveland Cavaliers fans got their wish as Darius Garland landed himself as a reserve in the 2022 NBA All-Star Game. The accomplishment is good on its own but to land your first All-Star game in the same season where the game is taking place in your home arena? Talk about serendipitous. Unfortunately, Jarrett Allen did not get selected to the team initially.
Garland got in with fellow guards DeMar DeRozen, Trae Young, James Harden, Zach LaVine, and Fred VanFleet. VanFleet joins Garland as a first-time All-Star. Garland was able to join that list of guys by averaging 19.8 points, 8.2 assists, and 3.3 rebounds per game while posting shooting splits of  .467/.369/.907.
He's among the best in several categories in just his third year in the league. He's 9th in box+/- (7.2), seventh in the league in assists, and third in the Eastern Conference in PER. There are guys who are better than Garland statistically in every category but few players are posting the type of numbers Garland is across the board.
The Cleveland Cavaliers should've seen Jarrett Allen go as well.
Fans of the Cleveland Cavaliers are happy Darius Garland got in, but they're hoping that he's not the last one, as Jarrett Allen is a name that is popping up to replace injured Nets forward, Kevin Durant. This is the second-straight year Durant was elected to go to the game but had to pull out, with Domantis Sabonis replacing him last year.
Allen remains one of the few names fans want to see go to the game, with LaMelo Ball and Jaylen Brown also being suggested for the game. While Ball and Brown have some better per-game stats, Allen is a great advanced stats guy. His defensive impact is phenomenal and he should clearly be in the running for the Defensive Player of the Year Award for 2022.
He's also a walking-double-double and with the exception of Joel Embiid, there isn't a center better in the Eastern Conference.
Allen should absolutely go to the All-Star game, let's just hope the decision-makers agree.