Hue Jackson may have just ruined his run at Grambling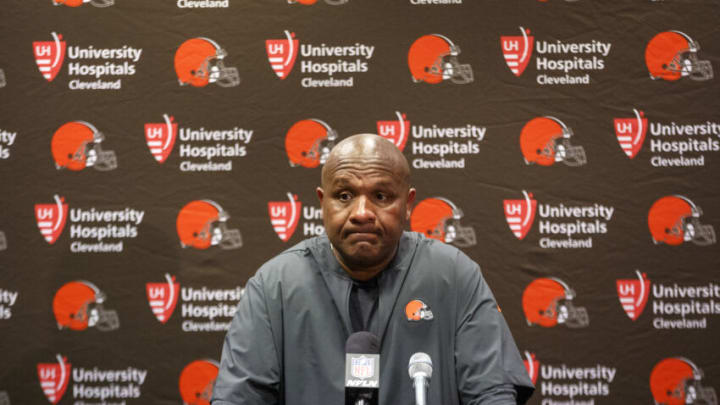 TAMPA, FL - OCTOBER 21: Head Coach Hue Jackson of the Cleveland Browns addresses the media during the press conference after the game against the Tampa Bay Buccaneers at Raymond James Stadium on October 21, 2018 in Tampa, Florida. The Buccaneers defeated the Browns 26-23 in overtime. (Photo by Don Juan Moore/Getty Images) /
Hue Jackson's career has taken a huge blow with current scandal.
I don't root for people to fail. Well, people who aren't war criminals I don't root to fail. I don't hate Hue Jackson. I think he's the worst football coach in Cleveland Browns' history for a variety of reasons, but I wouldn't say I hate him. When he was fired I thought he'd land somewhere and maybe rehab his image.
I mean as bad as he is, he's not Adam Gase. Though he did try to infer he and Brian Flores were treated similarly. Something that no one agreed with.
So when it was reported he hired Art Briles, the shameful ex-Baylor football head coach who turned a blind eye to various reports of rape on his campus by his players, it turned some heads. As in all the heads. This has set some things in motion that may actually end up getting Jackson fired, and potentially persona non grata in any major program going forward.
The new issues surrounding Jackson include the hiring of Briles, a bad move by any measure, and potentially a scandal involving his very own foundation.
I'm not rooting for Jackson to fail, that doesn't mean that he isn't going to, however.
Hue Jackson has damaged his reputation even more so.
The foundation questions certainly open up a unique set of questions. I'm not well-red with the economic side of the law, or what foundations must do to remain in good standing, but there are far more people curious about the Hue Jackson Foundation and what it's actually proving it can or can't do.
Namely, is the foundation just a tax fraud scheme? That's what hundreds of people are asking on Twitter. The person who runs the foundation's website didn't help matters by revealing that Jackson himself has funded 75% of the organization's payroll.
Now again, I don't know what a charitable foundation has to do to remain in good standing but many journalists have pointed out the sketchy nature of the Hue Jackson Foundation.
With another controversy to Hue Jackson's name, it's fair to wonder if what we saw from him in Cleveland was him at his best. While I am no fan of Deadspin, their writer Carron J. Phillips proposed an interesting idea that has come from the story that is not getting proper respect; is he capable of running a football program or a foundation?
That truly is the question.