Tampa Bay, Baker Mayfield rumors heat up, but trade not imminent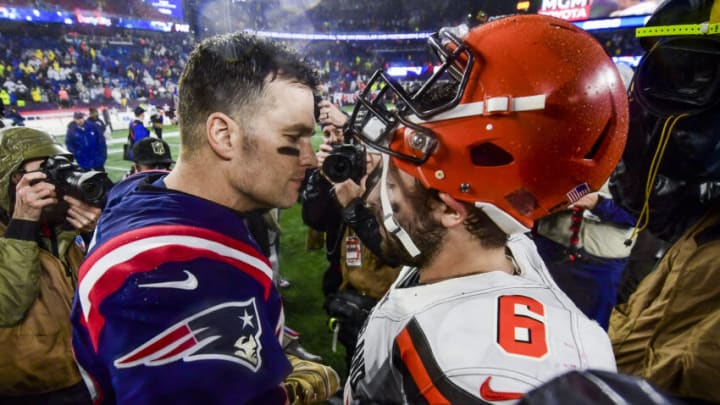 Baker Mayfield (Photo by Billie Weiss/Getty Images) /
Give it up to former Cleveland Browns signal caller Brady Quinn, who eyed Tampa Bay as a potential landing spot for lame-duck quarterback Baker Mayfield.
Quinn, who appeared on TLOD's "Road to the Draft" Podcast (subscription required), made the case why the Bucs would be the ideal fit for Mayfield. Mainly, Quinn reasoned the former Heisman Trophy winner would benefit greatly from being Tom Brady's understudy.
Heading into another week with Mayfield's $18 million on the roster, Tampa isn't going away as possible Mayfield suitor.
The Spun, by Sports Illustrated, picked up on a Tweet from NFL Rumors, which said the Bucs might consider kicking the tires on Mayfield.
The move makes sense for the Bucs, because Brady's already retired once, only to come back 40 days later. Some kind of long-term planning wouldn't be the worst thing for Bruce Arians, as Blaine Gabbert has served as Brady's backup the past two seasons.
Rumors: Baker Mayfield trade not imminent
The Browns are still in limbo with Mayfield on the roster. His $18 million guaranteed camp number appears to be prohibiting the team from doing business. Cleveland could still be waiting for Jadeveon Clowney's return, while rumors of Jarvis Landry's return have also emanated out of the rumor mill.
While intriguing to talk about the Bucs, and with the Seahawks and Panthers looking quarterback needy, Cleveland.com's Mary Kay Cabot reported (subscription required) "nothing was imminent on the trade front regarding Mayfield."
She wrote teams don't want to pay the $18 million figure and want the Browns to help with relief and for now, anyways, Cleveland doesn't want to pay any of the sum.
Cabot pointed to the Panthers trade of Teddy Bridgewater last season as a blue print for what other teams want. Bridgewater was due $17 million, but Carolina had to eat $7 million to move him to Denver.
There have been Internet rumblings of Mayfield staying on the roster in case Deshaun Watson gets suspend, which is absurd. The Baker Bridge has been burned and buried. It's not going to happen.
The Browns will move him, they're just waiting for the right deal. It'll be interesting to see how long Cleveland can keep him. Can they afford to hold onto him through training camp, when a quarterback or two almost always gets hurt?
Teams get desperate and being able to acquire a quarterback who has taken a team to the playoffs will be something GMs can sell their fan base.