Rumor: Deshaun Watson wasn't the Cleveland Browns first option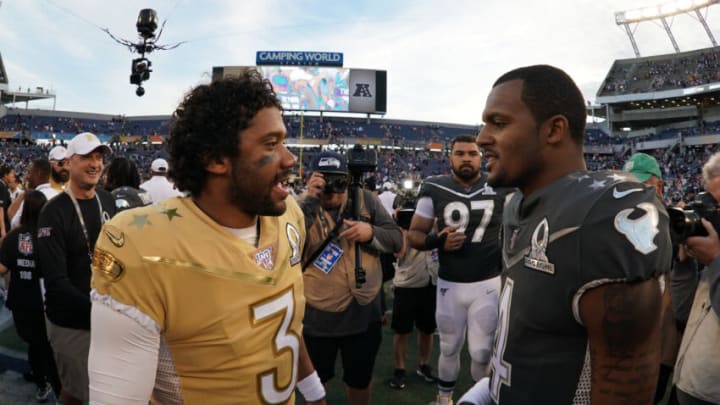 Jan 26, 2020; Orlando, Florida, USA; NFC quarterback Russell Wilson of the Seattle Seahawks (3) and AFC quarterback Deshaun Watson of the Houston Texans (4) talk after the 2020 NFL Pro Bowl at Camping World Stadium. The AFC defeated the NFC 38-33. Mandatory Credit: Kirby Lee-USA TODAY Sports /
The Cleveland Browns apparently wanted Russell Wilson and not Deshaun Watson.
When the Cleveland Browns made the obtuse decision to trade for Deshaun Watson, it felt desperate. If his off-field issues weren't bad enough, the deal happened at the height of his legal issues, and not only did the Browns give up way too many draft picks for him, but they gave him an absurd contract to boot. It reeked of desperation.
Turns out the team was desperate.
The Browns settled for Watson. While they had an interest in him dating back to October of 2021, the Browns' target had always been former Seattle Seahawks quarterback Russell Wilson. The Seahawks traded their greatest franchise quarterback ever to Denver Broncos for a nice haul about a month before the 2022 NFL Draft.
Yet, before the Broncos got him, the Browns were hoping to sway Wilson to join the squad. As Mary Cay Kabot reports (via Mile High Huddle)
"They did make some kind of a pitch for Russell Wilson. Russell Wilson was a player that they were interested in, but Russell was going to be able to dictate where he landed. … I think that he had his heart set on a few teams, and I don't think (Cleveland) was one of them."
The Cleveland Browns would be better off with Russell Wilson
The fact is that had the Browns convinced Wilson to come to Cleveland, the Browns would be so much better off for 2022. Yes, Watson is on par with Wilson as a player but Wilson is a tried and true leader, with a history of winning on his side.
Not only that, he's never been in an offense that catered to his strengths, and yet he's always performed well. Yes, he's been on some good teams, with good players to play with, but the Seahawks were not really known for their passing weapons despite efforts to improve in that area.
Imagine what he could've done in Cleveland had he given the franchise a shot? Wilson is reliable on and off the field and his biggest controversies have nothing to do with him, but people's opinions about him.
He's the kind of guy that stabilizes a franchise and had he come to Cleveland, there's no way the franchise's reputation takes the massive hit it did. Not only that, but the fanbase wouldn't currently be waiting to find out how long their current quarterback will be suspended for.