Rendering of Cleveland Cavaliers "Land" jersey shows just how terrible it will be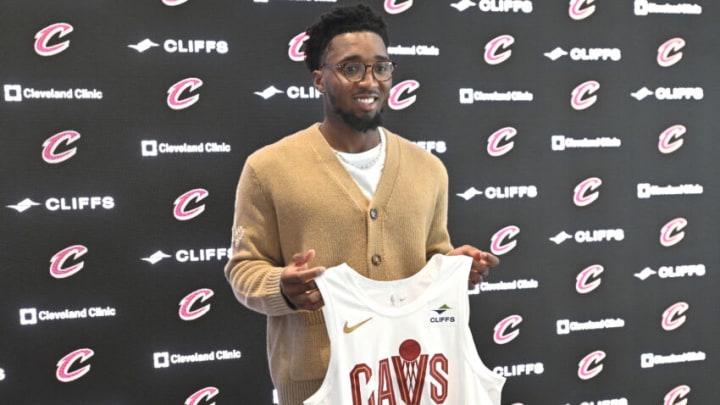 Sep 14, 2022; Cleveland, OH, USA; Cleveland Cavaliers guard Donovan Mitchell poses with his jersey during an introductory press conference at Rocket Mortgage FieldHouse. Mandatory Credit: David Richard-USA TODAY Sports /
The Cleveland Cavaliers finally took an "L" this offseason if these City jerseys are correct.
The Cleveland Cavaliers have won the offseason. That's not even a doubt. They had a great-looking draft on paper, they signed the key free agent they needed and wanted in Ricky Rubio, and then they went out and got Donovan Mitchell for next to nothing.
Surely nothing could ruin this offseason. And while this certainly doesn't ruin the offseason, man, these renderings of what the Cleveland Cavaliers City Jerseys may look like are giving me pause for concern.
Twitter user Casey Vitelli mocked up all of the expected jerseys that every NBA team will be rocking with. In some cases these are the real deals, in other cases, he rendered the jersey based on the descriptions given for them.
So the Cavs "Land" jersey isn't guaranteed to look like this, but this is a rendered version of how it's described. There is a leak, seen at this link here, that looks a lot like the one Vitelli posted but that one has "THE" atop the "City" and dead center.
It doesn't look much better than the render, and frankly" The Land" is a dumb nickname anyway.
The Cleveland Cavaliers have a history of missing the City Jersey's
I don't know if it's just me but wine and gold are a terrible color scheme. I've never liked them, not even when the team first started rocking the wine and gold in 2003. It could be due to growing up with the orange and blue or black, orange and blue eras of the 80s and 90s. Sure, the team was mostly garbage during that stretch, specifically in the 90s, but the attire was top-notch but those uniforms rocked.
The Cavs have had some good jerseys in the past few years, but frankly, most of them have been bad and ugly in my opinion. I never liked the white and whine that the team wore when LeBron James, Kyrie Irving, and Kevin Love first teamed up. Coupled that with the classic Cavaliers throwback city jersey from last year and man, I've suffered as a fan.
The Cleveland Rocks city jersey from a few years ago grew on me, and the orange and blue throwback City from just before that were also truly great.
I would hope the team goes back to the blue and orange scheme eventually but I won't hold my breath.