Who are the contenders for Nick Chubb's shot at a rushing title?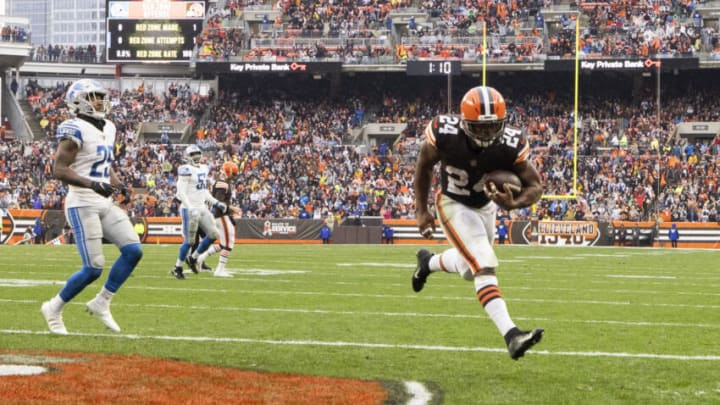 Nov 21, 2021; Cleveland, Ohio, USA; Cleveland Browns running back Nick Chubb (24) runs the ball into the end zone for a touchdown against the Detroit Lions during the second quarter at FirstEnergy Stadium. Mandatory Credit: Scott Galvin-USA TODAY Sports /
Nick Chubb is the MVP for the Cleveland Browns so far and is going for the NFL rushing title.
We are five weeks through the Cleveland Browns' season and Nick Chubb is rightfully at the top of the NFL rushing stats for the year. He has 593 yards and could likely have another 110+ yards if he didn't split time with Kareem Hunt. Chubb, while not known for his burning speed, is so shifty and strong that when he shifts his weight to one side or another, tacklers don't have the arm strength to wrap and he often runs through the arm tackle.
He's not a power back, nor is he a speedster. He's just very strong and very shifty and unless you get a clean look at Chubb, he's going to take you deep. Chubb has been like this since his rookie year in 2018. He's a hard guy to take down but has never won a rushing title despite being a Top 3 back in the league over the last six seasons as a member of the Cleveland Browns.
The reasons why are bountiful. Hue Jackson started a terrible running back ahead of him, then the Cleveland Browns focused more on passing in 2019 with another terrible head coach. 2020 and beyond has seen him split significant carries with a less-than-ideal running back. But now, Chubb is getting so many carries he's actually able to not just keep pace with the league's best runners, but lead them all.
Yet, what running backs really have a chance to surpass Chubb, the Cleveland Browns' standout running back?
Nick Chubb's top challengers for the NFL rushing title
This is a list of the 9 players with the most yards in the league. Nothing but rushing yards are being factored into this. The rushing title is not an all-encompassing stat, so we're not looking at receiving yards at all.
So whose the closest to overtaking Chubb?
NYG Saquon Barkley (533 yards)
LAV Josh Jacobs (490 yards)
PHI Miles Sanders (414)
HOU Dameon Pierce (412)
TEN Derrick Henry (408)
CHI Khalil Herbert (403)
GB Aaron Jones (390)
SF Jeff Wilson Jr. (375)
BAL Lamar Jackson  (374)
Let's start with the eliminations and why. Firstly, San Francisco offensively is a mess, and Wilson isn't a featured back. He'll likely taper off.  Aaron Jones plays with Aaron Rodgers, who calls his own plays and hates running the ball. So he's out. Khalil Herbert is on a bad team, and with how bad Justin Fields is, the defenses will eventually stack the box and eliminate the rushing game.
Dameon Pierce is in the same situation in Houston, though with a slightly better quarterback. Josh Jacobs is a solid back but plays for a terrible head coach and will eventually see whatever progress he makes destroyed by Josh McDaniels.
On a side note; this is why I didn't want McDaniels.
So who really has a shot to surpass Chubb? Lamar Jackson, Derrick Henry, Miles Sanders, and Saquon Barkley.
Jackson and Herny have the least likely chance of surpassing Chubb but I wouldn't count them out entirely. Henry will continue to be given the rock even though he's far from what he was in 2020. Still, just the sheer amount of handoffs should give him a chance to surpass Chubb, unless he gets hurt or just falls off a cliff skill-wise.
Jackson has a good shot but if he gets hurt he's out. The Ravens are not a good offensive club and have to rely on him more than ever, and that means Jackson may take over more games with his feet. I think Jackson and Henry are outside shots but possible.
Sanders and Barkley, on the other hand, could very well contend. Both guys are great runners and featured backs of their respective teams. Sanders has to deal with the fact the Eagles' offense can disappear with Jaylen Hurts at quarterback from time to time and Barkley has had injury issues over the last few years, and that may limit his opportunities.
For my money, I think Sanders has the better shot, even though I prefer Barkley. Barkley has to prove he can stay healthy and until then, he's not the safe bet.
There is one name that I think could get back into the race if his new head coach can use him properly and that's Christian McCaffery (324). As with Barkley, if he's healthy, McCaffery can change any game he's in but his offense has got to use him better, which is something Matt Rhule failed to do.
All in total, however, unless Chubb gets hurt, Chubb will likely walk away with the rushing title.